Experience the natural beauty of the Rocky Mountains year-round at our unique all-inclusive pet-friendly mountain lodge and glamping destination in the heart of Kananaskis Country, Alberta.
Located 30 minutes outside of Canmore, we offer an escape from the busy towns, where you can unplug and connect with nature at any time of year.
Choose from a variety of comfortable, rustic accommodation options, including lodge rooms, cabins, glamping tents and a yurt – all with stunning views and gourmet meals included.
Whether you're looking for a relaxing retreat, a romantic getaway, a family vacation, or an adventure exploring the back-country, you're in for an unforgettable experience.
Posted rates are based on dual occupancy, i.e. the total cost for 2 guests with all meals included. Please review our lodge policies for more information.
Mount Engadine Lodge will be closed from October 30th to November 10th for maintenance and property improvements. We will be fully closed during this time with no overnight guests or afternoon tea service available. We apologize for any inconvenience caused by the closure.
Explore our accommodation options and rates. Take your pick from a variety of comfortable in-lodge rooms, alpine-style cabins, glamping tents, and a rustic camping yurt.
Locally-inspired gourmet meals are included for all overnight guests. Our restaurant is also available to visitors for dinner, as well as our popular afternoon tea.
Take advantage of our unique back-country location, with access to stunning scenic trails for hiking, biking, snowshoeing, cross-country skiing & more.
Discover upcoming events, our latest special offers, and how to work with us to create custom packages for your family reunion, retreat, or any other big occasion.
Plan your dream mountain wedding or elopement at the most intimate and romantic wedding venue in Kananaskis, surrounded by stunning views and wilderness.
Learn about the history of Mount Engadine Lodge, the amenities we have to offer, plus important information for your stay including how to find us and our policies.
What People Are Saying...
Spectacular lodge with the friendliest and most helpful staff. We were here for my company's Reiki Retreat and they cater to everyone's individual dietary allergies and preferences - so amazing! How refreshing to be able to eat without worry. The rooms were clean and well taken care of as well. We had such a wonderful time, we will definitely be back!
What a getaway! The views are gorgeous, the food is amazing, and the service is outstanding. We have been here twice now and brought our friends this time. Everyone loved their visit and we can't wait to come back in a different season 🙂
Thank you Mount Engadine Lodge and staff for a great weekend getaway! We just stayed here for 2 nights with a group of friends and we were extremely impressed. Food and cocktails were so delicious! The lodge is very warm and cozy and the views are outstanding. Can't wait to go back again!
Shout out to Mount Engadine and their staff. My wife and I stayed there for one night in January, and everything was amazing. The food, service, location, and accommodations are 5 star and we both highly recommend this to anyone looking to get away from the hustle of city life. We stayed in a glamping tent, it was clean and as warm as we wanted. Special thanks to Patrick for making our stay even more special! Also, if you can, take advantage of the complimentary fat tire bikes, we cruised around and had a blast!
We booked a three-day stay at the Moose room in the main lodge as a quick "mini-moon" getaway after our wedding in Banff. Despite being situated somewhat off the grid in Spray Valley, the lodge features luxury amenities (including wifi), and absolutely amazing food. Generally, Mt Engadine Lodge is a great choice for anyone looking for a nature getaway without sacrificing comfort. The set-up is ideal for hikers: breakfast is plentiful and delicious, the kitchen provides substantial hikers lunches with a good degree of choice, and staff is very knowledgeable and proactive in helping you planning activities during your stay. In the afternoon you can relax in the common area or on the patio overlooking the beautiful valley, snacking on the complementary afternoon tea. Dinner consists of three courses plus a bread starter, all of which change daily and always both creative and plentiful. Afterwards you are free to lounge and mingle in the common area, at the bar, in front of the fireplace, or at the campfire outside. More likely however a food coma will lead you back to your comfortable room (the Moose room is huge and features a lounging area complete with gas fireplace). But maybe that's just us.
I got married at Mount Engadine in February 2022 and it was beyond perfect! The weather was amazing, -2 with clear blue skies. The staff were so accommodating when planning the wedding (with guests changing, diets, ect). The food was spectacular, and so much food, no one was hungry. The rooms were spacious, and fit all of our guests comfortably. We even had an evening dance in the mountains. It was the best day ever! Thank you everyone for making this day so memorable.
Went with my wife and three kids and we had the Moose suite. It was an excellent family vacation. The food obviously is a highlight, but being able to get out from the lodge and go snowshoeing was so nice. The games room was another highlight, and we spent a lot of time by the fire playing jenga and other games. Overall it was an incredible experience, can't wait to go back!
Clean and cozy accommodations, wonderful hospitality and we were kept well-fed with delicious gourmet meals. We took our 6 year old over Christmas break for a few nights and stayed in one of the glamping tents - do not be afraid of the cold, it is surprisingly toasty inside, with indoor plumbing as well! We had lots of fun snowshoeing and hiking in the area, as well as just hanging out at the lodge chatting with other guests. We can't wait to visit again!
Service and food were outstanding. I would go here for these alone. We stayed in the cabins with our dog. They were very accommodating for our furry friend! The location was great for access to skiing and snowshoeing. We will be back for sure!
Stopped by for the afternoon tea and charcuterie board. Great service, unforgettable views. Highly recommend!
Mount Engadine was the perfect venue for our wedding. The staff we amazing, helpful and accomodating. All of our guests agreed that they had never been somewhere quite so spectacular. The food was excellent and plentiful. The activities (snow shoes, cross country skis, fat tire bikes) where a big hit. No bad words to say. Mount Engadine really is a "hidden gem".11/10
Unique experience! It starts with the gravel road ride to the lodge, which, if you are lucky, already exposes you to Kananaski wildlife (we saw a lot of Rocky Mountain sheep). It continues with a beautiful room setting (we stayed in a glamping tent, which was true glamping, ie super comfortable bed, bathroom, couch, stove for heating…). And, last but not least, the entire stay is paired with delicious food - from afternoon tea over dinner to breakfast and lunch package - all fresh and included, making the stay a 'no need to worry about anything'. Thank you for having us!
Mount Engadine is so serene and beautiful. Food was delicious and they keep you stuffed full! Staff were friendly and accommodating. Views cannot be beat. Clean rooms, comfortable beds, and peaceful quiet surroundings. Hikes around the area are awesome too. Thank you for a lovely stay.
If you enjoy eating gourmet meals, sipping on tasty cocktails, and soaking in beautiful 360 degree views, this is the place for you. Each member of the staff works hard to make your stay memorable and personalized (especially for your furry friends!), and the surrounding activities are nothing short of spectacular. The glamping tents are so cozy, and you won't go hungry with how many amazing meals are provided with the stay. For sure recommend and will be back!! ❤️
This place is absolutely amazing! For the price it is a steal in the sense of what you are getting. Amazing, gourmet food, tons of activities including snowshoeing, fat bikes, cross country skiing and more! The staff is absolutely lovely and so friendly! Rooms are super clean, cozy and quaint with beautiful views. We definitely want to come back in the summer and experience it in a different season as they have even more activities then too! Highly highly recommend if you're looking for a true getaway with no cell service or tv! The encouragement of getting outdoors and spending true quality time makes the time here absolutely amazing!
My friend and I drove to the lodge all the way from Vancouver and it was well worth it! Everything was top notch - from the location, to the amazing staff that was always there to accommodate any of the requests, to incredible chefs cooking the most amazing meals (4 times a day, already included in the price!), to the breathtaking mountain views all around... we left fully recharged, rested and fed 🙂 There is a lot to see/do around in the area even in wintertime. We will definitely be coming back in the summer and perhaps during other seasons to experience the surroundings in every season! If you are looking for a quiet, cozy, serene yet luxurious and comfortable place to spend a few nights at in the Rockies, this is the place to be!
Just back from spending a few blissful days at Engadine for Valentine's with my partner. Everything - but EVERYTHING - about this place was simply perfect. Cozy and tastefully decorated rooms (we stayed at Burstall cabin) that are super quiet (quite possibly THE quietest place I have ever had the privilege of staying at, and that is a huge treat), curtains that completely black out the light, which made for beautiful uninterrupted sleep, intentional lack of tech connection (Wi-Fi is excellent at the Main Lodge, but not in the rooms, and no cell service), super friendly and helpful staff (everyone we encountered), exquisite gourmet meals three times a day (we are vegetarians, and the Lodge catered to us simply beautifully), not to mention the stunning area and location the Lodge sits in! We will certainly be back - we need to experience a glamping tent and the yurt in summer.

Tripadvisor Travellers' Choice Award & Top Ten Hidden Gem 2023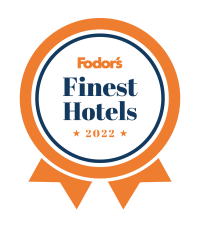 Top 5 Best Hotels in Canada 2022

Sustainable Tourism Award Winner

Award Winner & Guest Choice in Kananaskis 2022