If you're looking to experience back-country camping in Alberta, but you don't want to give up on the luxuries of a hotel-style stay, our all-inclusive glamping tents are the perfect solution for you.
Enjoy being in nature, while still having your own private bathroom with flushing toilet and hot showers. Plus, you can leave your camping stove at home – our kitchen will provide you with gourmet meals throughout your stay. In addition to meals in the dining room, you will also have access to all the other main lodge amenities during your stay.
Our canvas-walled glamping tents are pet-friendly and are open all year round – even in the winter! Each tent has its own gas fireplace to keep you warm and cozy when it's cold.
Each tent also has its own balcony for you to enjoy the stunning surrounding views (and maybe even wild life sightings!) during the day, and stargazing at night.
Please note that there are no TVs or telephones in the tents, no cell service, and no WiFi (there is limited WiFi in the main lodge and a satellite phone in the main office for emergencies). We encourage guests to disconnect and embrace the back-country experience.
Our rates are in Canadian Dollars (CAD) and are based on dual occupancy, i.e. the total cost for 2 guests (except for the Chickadee lodge room, which is for a single guest only).
Our rates include all meals (full breakfast, packed lunch, afternoon tea, and three-course dinner) from our gourmet restaurant.
If you are traveling alone (and are not booking the Chickadee lodge room), please contact us and we will reduce the nightly rate for your booking.
Taxes, gratuities, alcohol and other special beverages are not included in our rates, and come at an additional cost. All gratuities are appreciated and divided equally among all staff.
To fully appreciate the beauty of our lodge and experience all that Kananaskis has to offer, a two-night stay is recommended.
Our rates vary based seasonality: check current rates.
Please review the Our Lodge page for more information on our policies, including our pet policy and cancellation policy.
Dog-friendly rooms include: all glamping tents and cabins, the yurt, and the Elk suite in the lodge.
Special Offers & Packages
Check our
Events & Packages
page for information on currently available offers and packages, as well as events happening at the lodge.
If you enjoy eating gourmet meals, sipping on tasty cocktails, and soaking in beautiful 360 degree views, this is the place for you. Each member of the staff works hard to make your stay memorable and personalized (especially for your furry friends!), and the surrounding activities are nothing short of spectacular. The glamping tents are so cozy, and you won't go hungry with how many amazing meals are provided with the stay. For sure recommend and will be back!! ❤️
Shout out to Mount Engadine and their staff. My wife and I stayed there for one night in January, and everything was amazing. The food, service, location, and accommodations are 5 star and we both highly recommend this to anyone looking to get away from the hustle of city life. We stayed in a glamping tent, it was clean and as warm as we wanted. Special thanks to Patrick for making our stay even more special! Also, if you can, take advantage of the complimentary fat tire bikes, we cruised around and had a blast!
Clean and cozy accommodations, wonderful hospitality and we were kept well-fed with delicious gourmet meals. We took our 6 year old over Christmas break for a few nights and stayed in one of the glamping tents - do not be afraid of the cold, it is surprisingly toasty inside, with indoor plumbing as well! We had lots of fun snowshoeing and hiking in the area, as well as just hanging out at the lodge chatting with other guests. We can't wait to visit again!
Unique experience! It starts with the gravel road ride to the lodge, which, if you are lucky, already exposes you to Kananaski wildlife (we saw a lot of Rocky Mountain sheep). It continues with a beautiful room setting (we stayed in a glamping tent, which was true glamping, ie super comfortable bed, bathroom, couch, stove for heating…). And, last but not least, the entire stay is paired with delicious food - from afternoon tea over dinner to breakfast and lunch package - all fresh and included, making the stay a 'no need to worry about anything'. Thank you for having us!
What a getaway! The views are gorgeous, the food is amazing, and the service is outstanding. We have been here twice now and brought our friends this time. Everyone loved their visit and we can't wait to come back in a different season 🙂
My friend and I drove to the lodge all the way from Vancouver and it was well worth it! Everything was top notch - from the location, to the amazing staff that was always there to accommodate any of the requests, to incredible chefs cooking the most amazing meals (4 times a day, already included in the price!), to the breathtaking mountain views all around... we left fully recharged, rested and fed 🙂 There is a lot to see/do around in the area even in wintertime. We will definitely be coming back in the summer and perhaps during other seasons to experience the surroundings in every season! If you are looking for a quiet, cozy, serene yet luxurious and comfortable place to spend a few nights at in the Rockies, this is the place to be!
Just back from spending a few blissful days at Engadine for Valentine's with my partner. Everything - but EVERYTHING - about this place was simply perfect. Cozy and tastefully decorated rooms (we stayed at Burstall cabin) that are super quiet (quite possibly THE quietest place I have ever had the privilege of staying at, and that is a huge treat), curtains that completely black out the light, which made for beautiful uninterrupted sleep, intentional lack of tech connection (Wi-Fi is excellent at the Main Lodge, but not in the rooms, and no cell service), super friendly and helpful staff (everyone we encountered), exquisite gourmet meals three times a day (we are vegetarians, and the Lodge catered to us simply beautifully), not to mention the stunning area and location the Lodge sits in! We will certainly be back - we need to experience a glamping tent and the yurt in summer.

Tripadvisor Travellers' Choice Award & Top Ten Hidden Gem 2023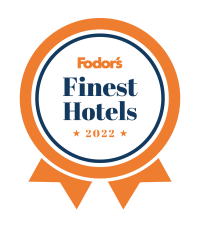 Top 5 Best Hotels in Canada 2022

Sustainable Tourism Award Winner

Award Winner & Guest Choice in Kananaskis 2022
Learn more about our gourmet meal offerings, including a sample menu and photos. We are always happy to accommodate food allergies and preferences with advance notice.
Discover upcoming events, our latest special offers, plus custom packages for your dream mountain wedding, a corporate retreat, a family reunion, or any other big occasion.
Learn more about the history of Mount Engadine Lodge, lodge amenities, plus important information for your stay, including how to find us, and our policies for guests and pets.