Mount Engadine Lodge, a Castleavery Hospitality Ventures property, is one of Kananaskis Country's best kept secrets. Our unique, all-inclusive property features back-country access to world-renowned skiing, snowshoeing and hiking, with the amenities and comforts of a modern resort, including a gourmet restaurant and bar. 
We pride ourselves on balancing sustainability and luxury, and are Eco-Stay Certified. To keep our environmental footprint as small as possible, our lodge relies on a generator and battery bank for power. There are no TVs or telephones in the rooms, no cell service, and WiFi connectivity is limited (there is a satellite phone in the main office for emergencies). We encourage guests to disconnect and embrace the surrounding wilderness.
The Beginning
Mount Engadine Lodge was built in 1987 and named after the nearby peak, Mount Engadine. Later, as part of the 1988 Calgary Winter Olympics, nearby peaks were designated as Alpine and Nordic ski areas.
Expansion
Originally, the Lodge consisted of the main building which houses the common areas and lodge rooms. In 1997, the Moose and Elk rooms were added, plus the main lounge and the meadow-view cabins.
Upgrades
Renovations and upgrades were made to the rooms and operating systems over the years.
Glamping
In 2016, a canvas Yurt was added to the property and in 2018, five luxury Glamping Tents were completed with full ensuite bathrooms and private decks.
Recognition
Mount Engadine was named as 1 of 5 Canadian Hotels on Fodor's Travel's list of the 101 Most Incredible Hotels in the World for 2022. We were also given the Tripadvisor Traveller's Choice Award in 2022 and 2023 as the #1 Hidden Gem in Kananaskis.
Amenities & Guest Services
We bring gourmet to the backcountry! Our all inclusive culinary program features breakfast, a bagged lunch for you to take with you for the day, our popular afternoon tea services with charcuterie and strudel, and a delicious three-course plated dinner.
Check our wine list for that perfect pairing or choose your favourite drink off our cocktail menu. We also feature have an excellent collection of tea, coffee, hot chocolate, and pop from The Grizzly Paw Brewing Company.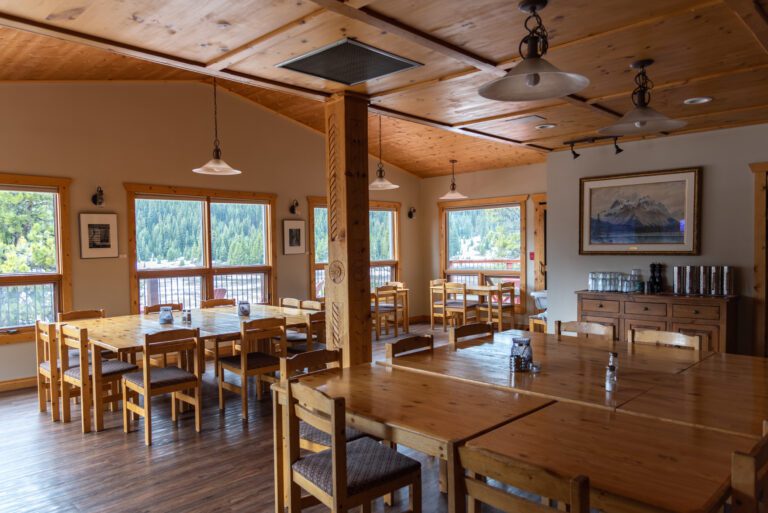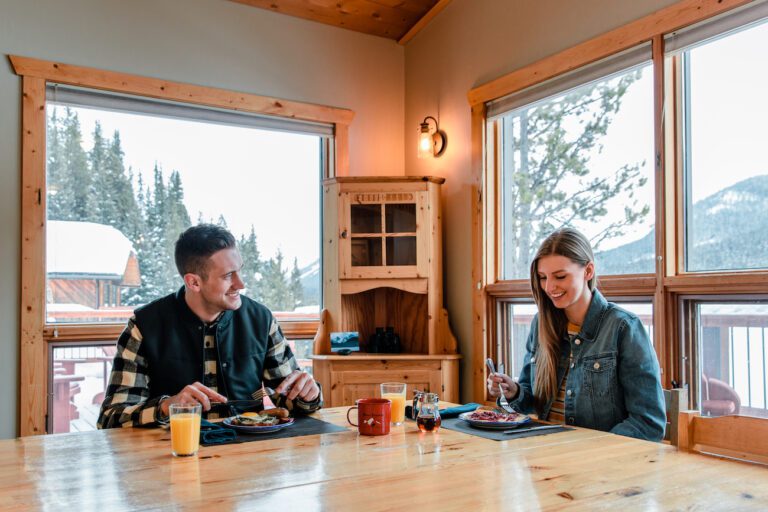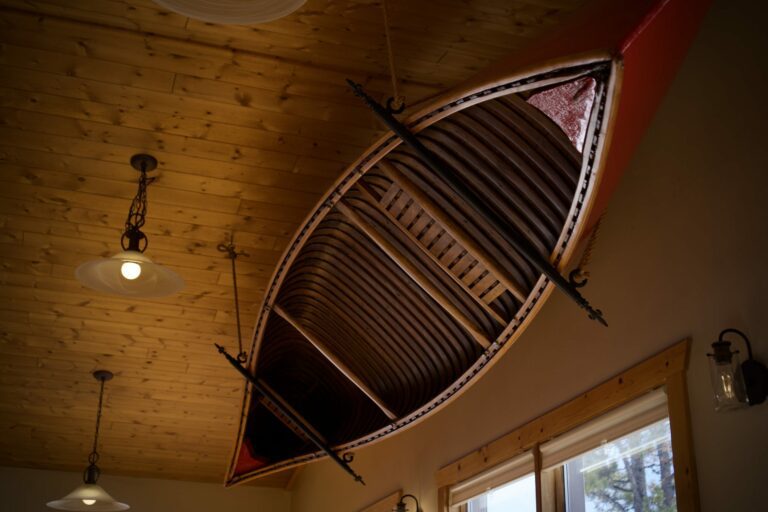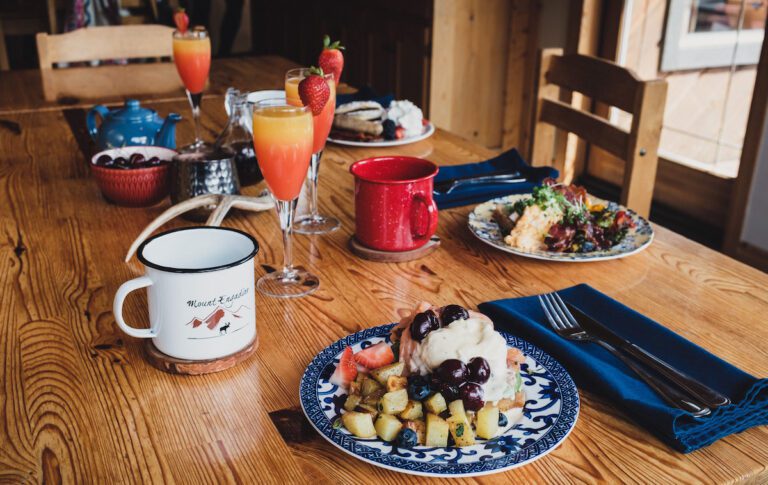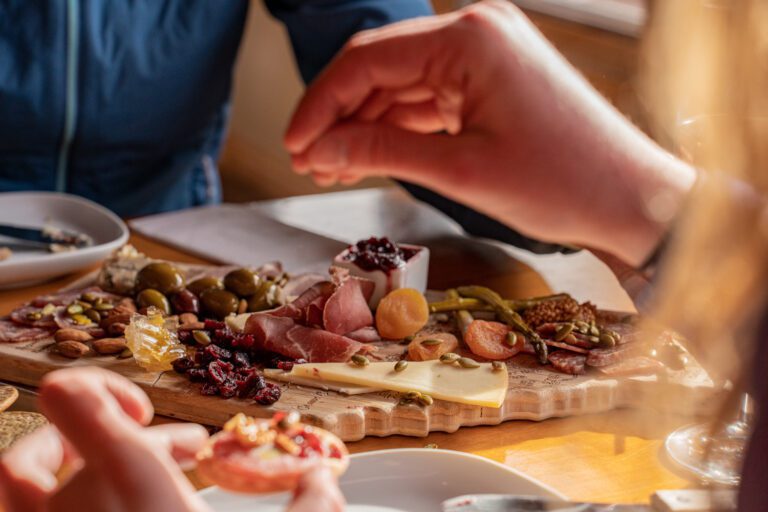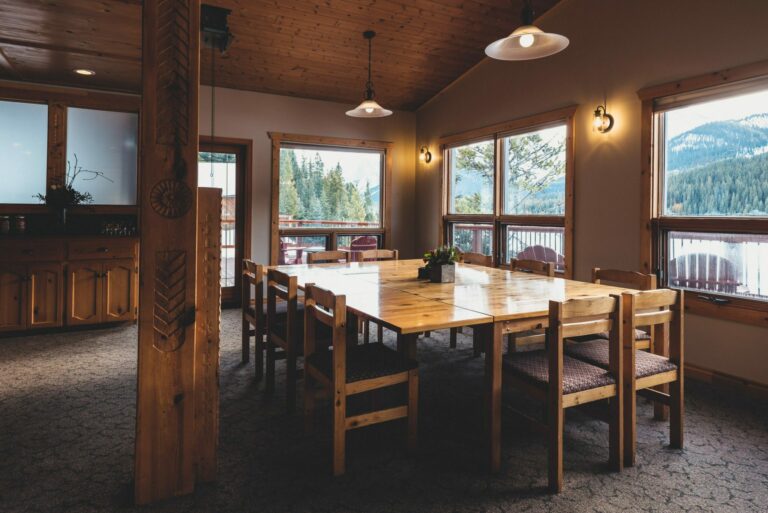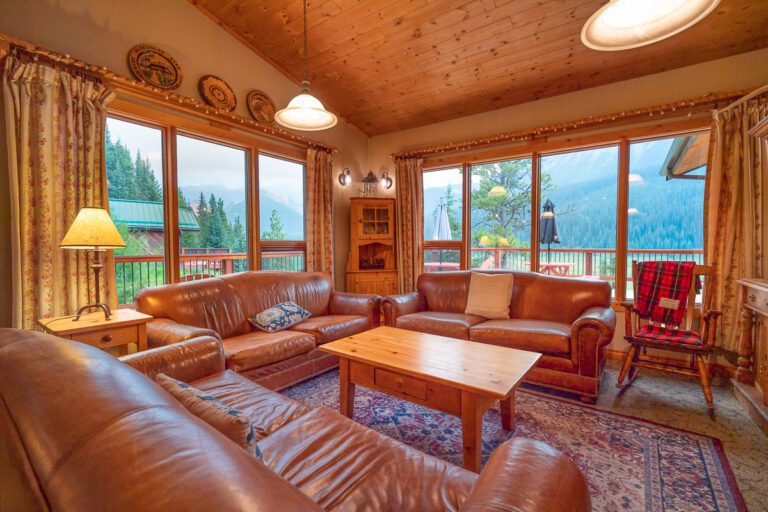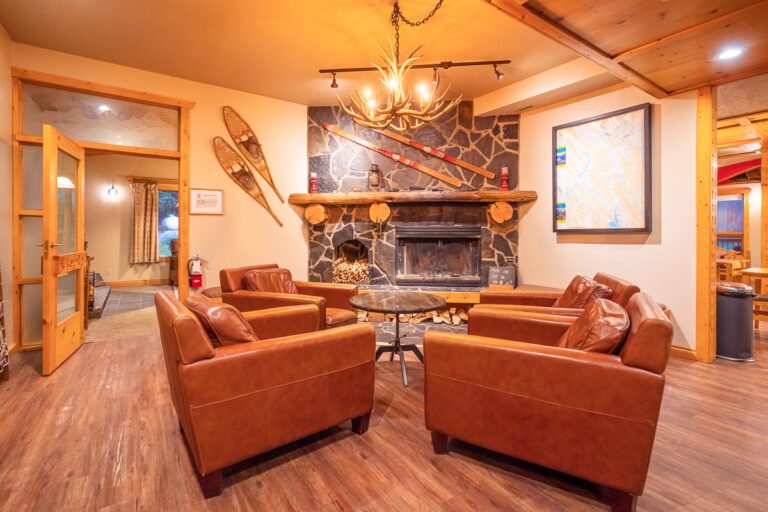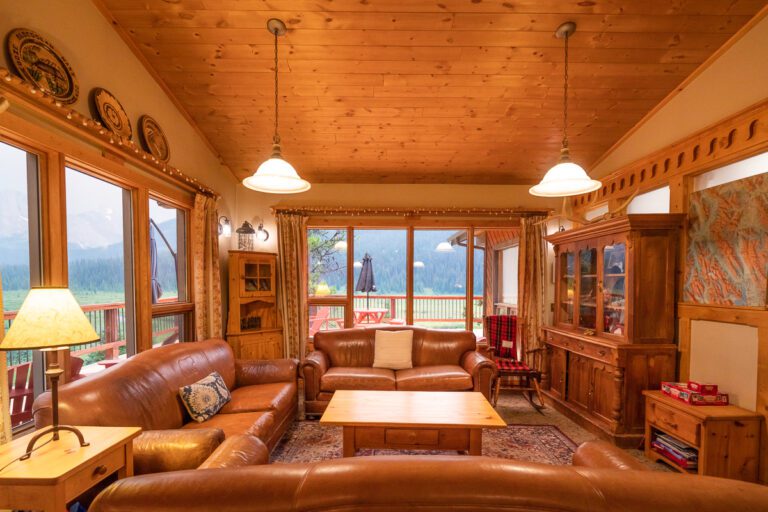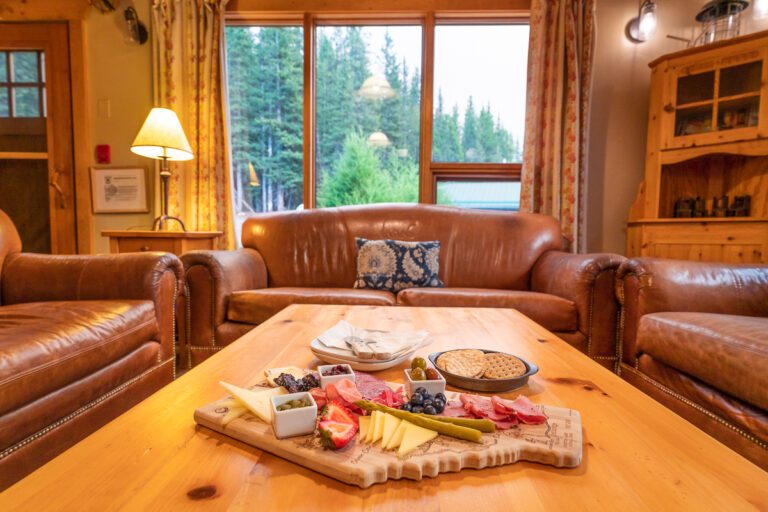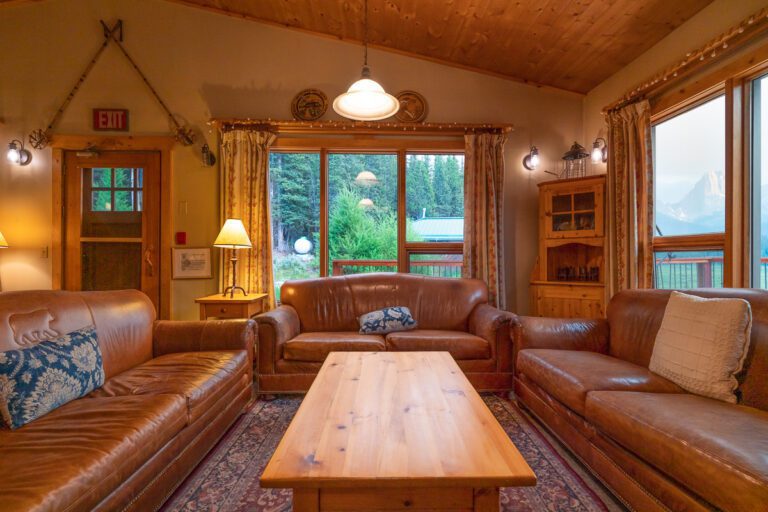 Our rustic and cozy main lodge allows you to experience the surrounding wilderness while enjoying the atmosphere of a secluded Alberta mountain lodge.
Each with its own fire place and sitting area, our 2 main lodge common spaces are pet-friendly and the ideal location for a relaxing afternoon of reading, board games, cocktails, or maybe even a good nap. 
Note: Pets must be kept out of the dinning room in the main lodge at all times.
Fire pits and patio views, these are two things that are best in the Rocky Mountains. With stunning Kananaskis views of the valley, Commonwealth Peak and ridgeline of Tent Ridge, our patio is a great place to the afternoon sunshine and peaceful surroundings.
Then at night when the stars come out, our fire pit will keep you toasty warm as you enjoy a night sky that can only be experienced when you escape the city lights.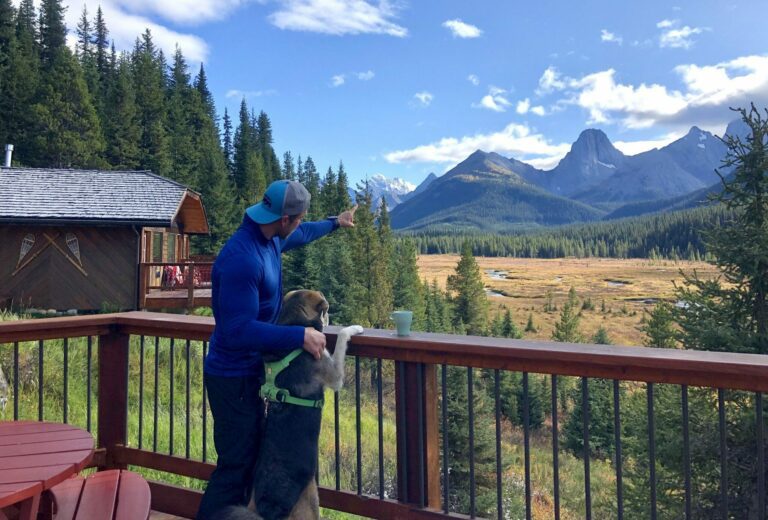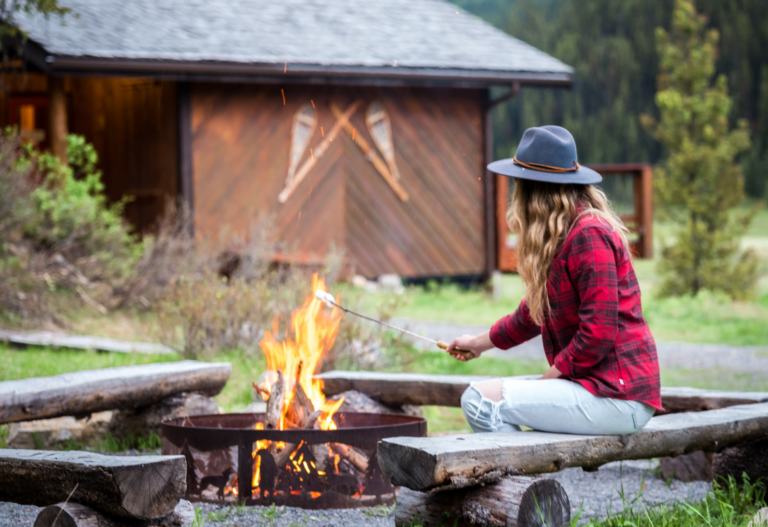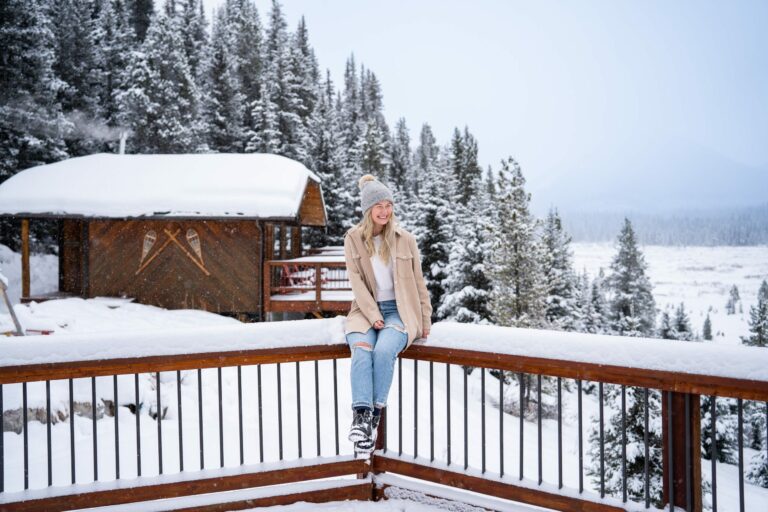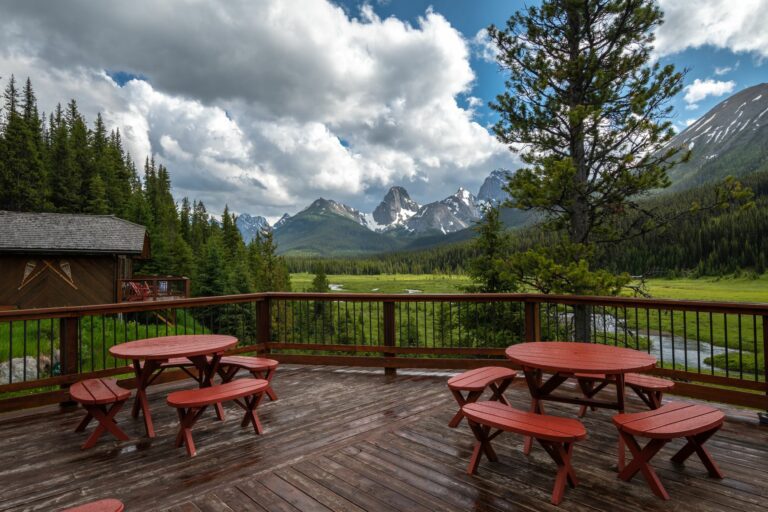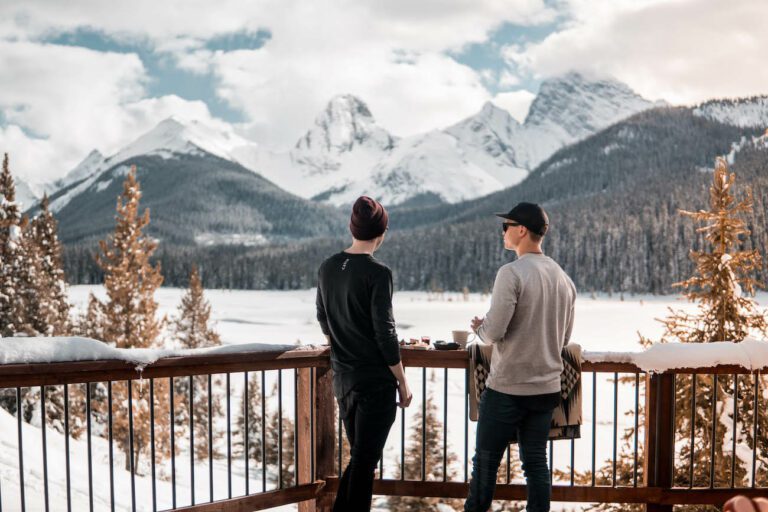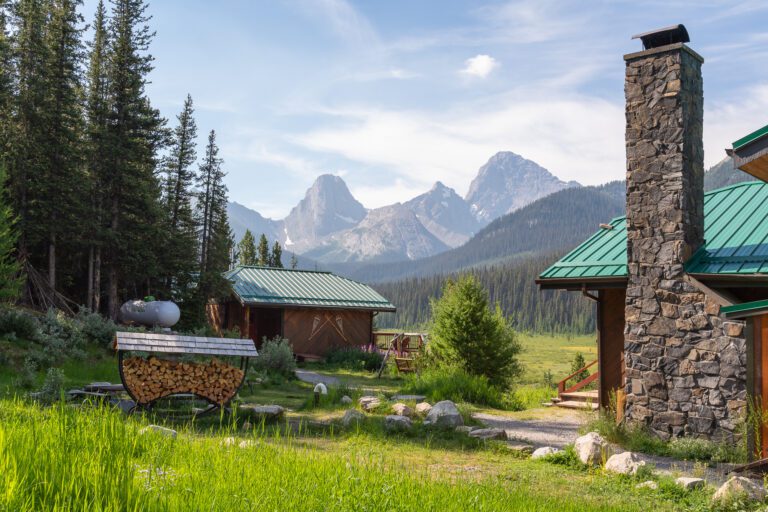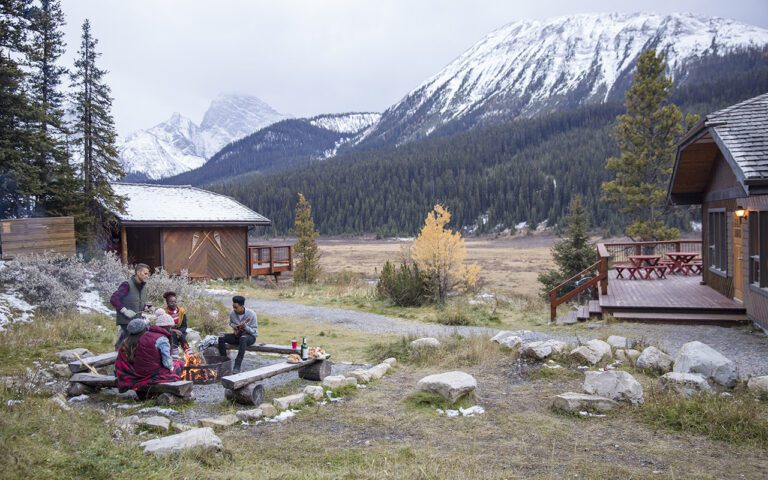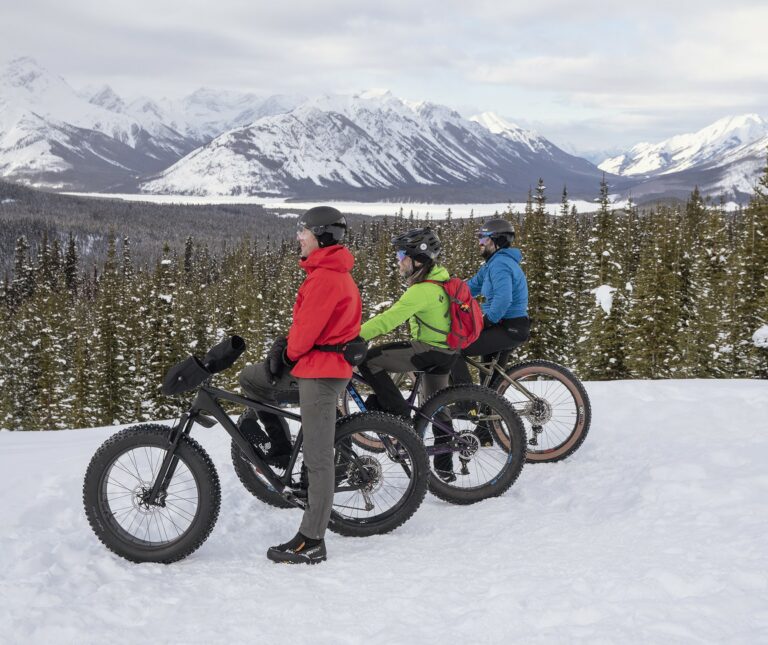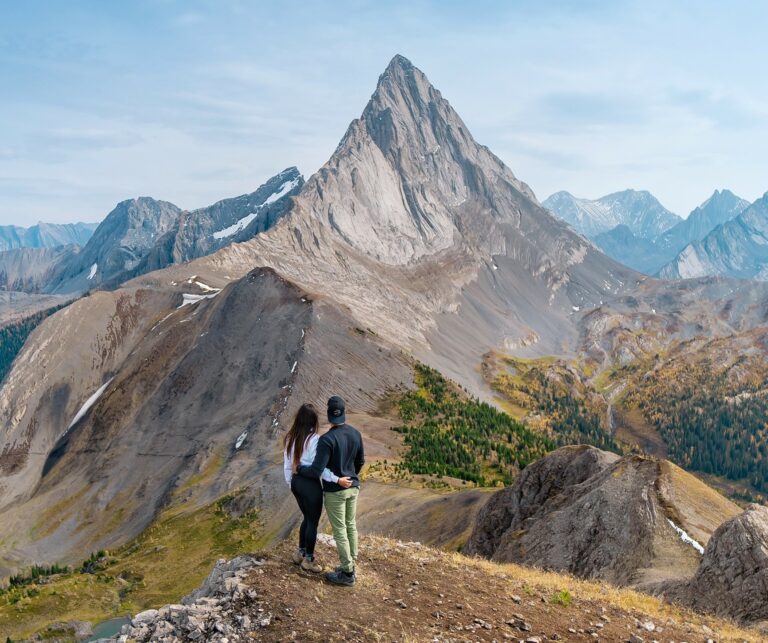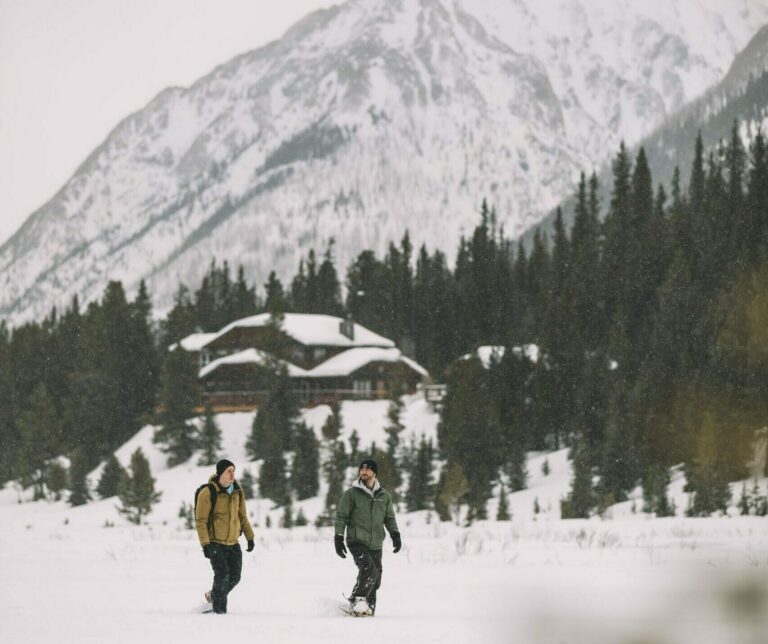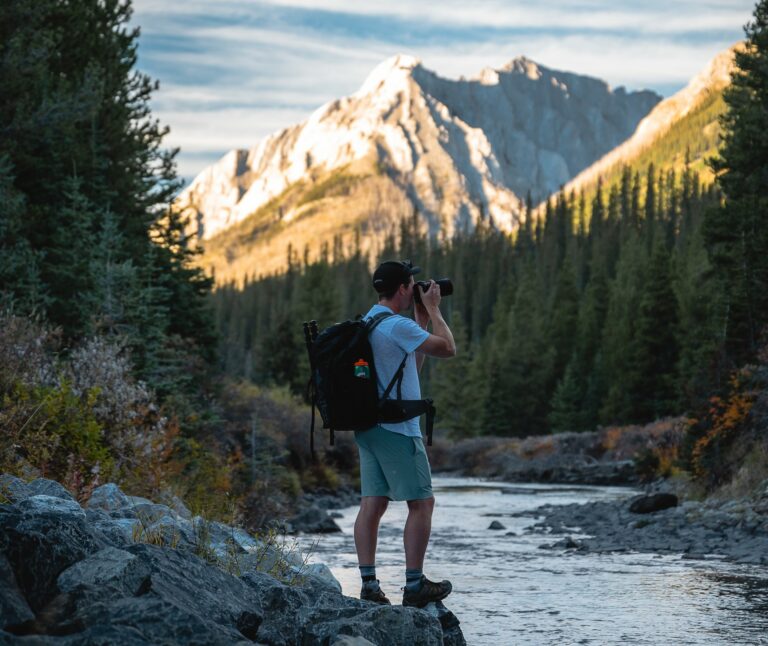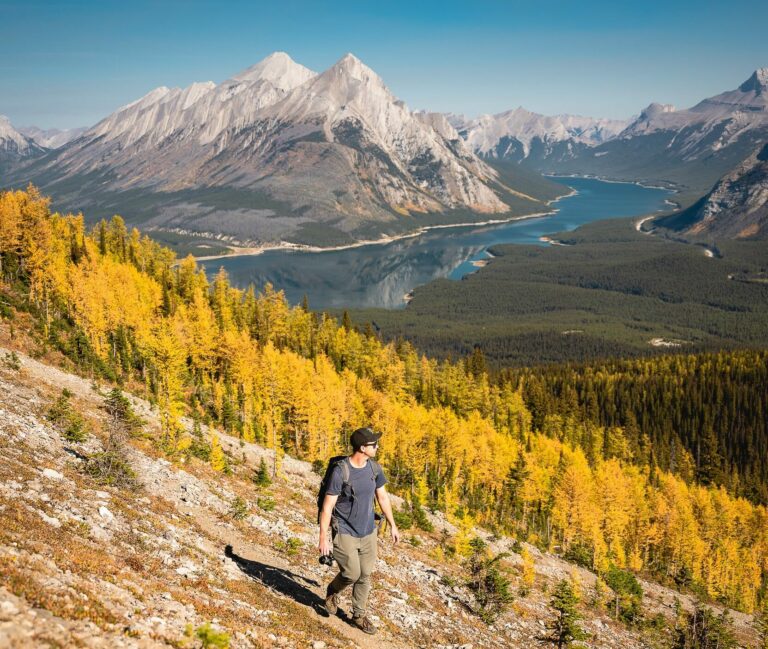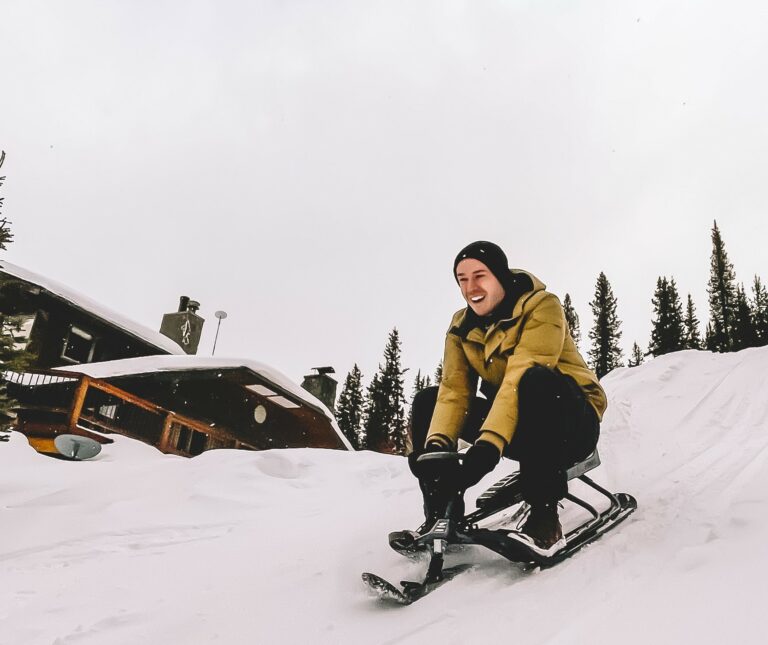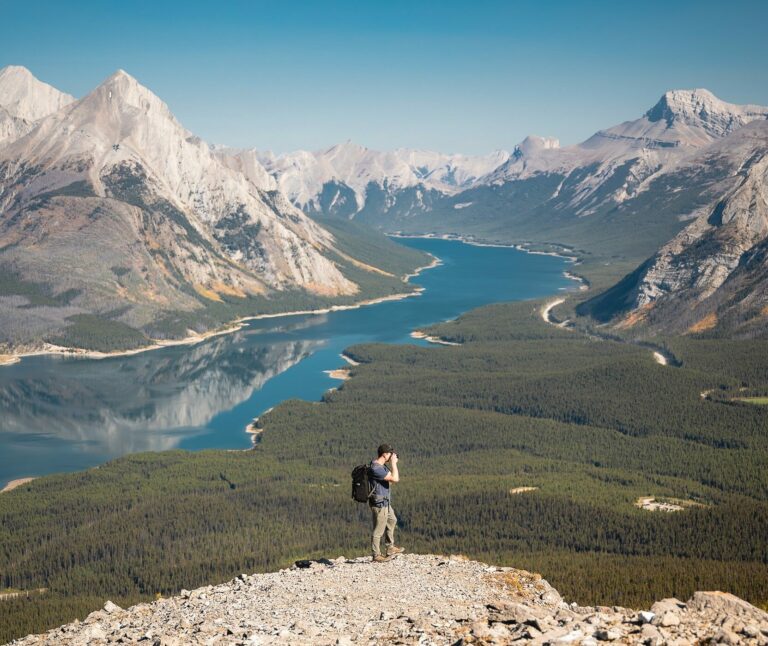 Our guests enjoy convenient trail access in all seasons that the trails are active.
In summer, there are hiking trails for all experiences levels just minutes from our door, with the popular Rummel Lake trail starting just on across the road.
In winter, Mount Engadine offers you the opportunity to fat tire bike or snowshoe directly from your door. With trails in valley behind the lodge, you just need to gear up with our complimentary rentals, and you're all set! 
The perfect gift for the mountain lover in your life, our Mount Engadine Lodge merch will keep you styling on the trails and will be a great keepsake of all the fond memories.
Featuring hats, toques, mugs, clothing, water bottles, charcuterie boards and more. Contact us or see the front desk staff for more information and purchase.

Tripadvisor Travellers' Choice Award & Top Ten Hidden Gem 2023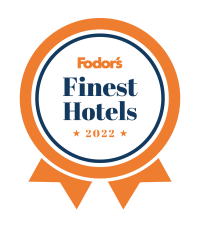 Top 5 Best Hotels in Canada 2022

Sustainable Tourism Award Winner

Award Winner & Guest Choice in Kananaskis 2022
Address: 1 Mount Shark Rd, Canmore, AB T1W 0B9
Mount Engadine is a short, scenic drive from Calgary and Canmore.  We are located off Smith Dorrien Trail – Highway 742. Please be aware that Highway 742 is a gravel road, running for approximately 37 km. Because it is a numbered highway rental car insurance is still valid. Highway 742 is plowed and sanded regularly during winter months, but please drive with caution.
We have plenty of parking space available for guests. Please reverse into parking stalls in the winter, as some car batteries may need a jump start when the weather is cold.
Please contact us with any questions about road conditions, directions or parking.
Kananaskis Conservation Pass
Kananaskis Conservation Passes are not included in our rates, and all overnight guests and visitors must have a valid daily or yearly pass for their vehicle(s).
Owners of non-compliant vehicles may receive a warning or be sent a fine in the mail. 
By purchasing a pass, you're helping keep this special part of Alberta beautiful and protected for generations to come.
Our rates are in Canadian Dollars (CAD) and are based on dual occupancy, i.e. the total cost for 2 guests (except for the Chickadee lodge room, which is for a single guest only).
Our rates include all meals (full breakfast, packed lunch, afternoon tea, and three-course dinner) from our gourmet restaurant.
If you are traveling alone (and are not booking the Chickadee lodge room), please contact us and we will reduce the nightly rate for your booking.
Taxes, gratuities, alcohol and other special beverages are not included in our rates, and come at an additional cost. All gratuities are appreciated and divided equally among all staff.
Special Offers & Packages
Check-in time: 3pm
Check-out time: 11am
Some of our accommodations feature fold-out sofa beds, or can accommodate a cot for additional guests. Please include all guests in your reservation numbers when booking so that we are prepared for your stay.
Adults: $150/night, including meals
Youths (5-12 years old): $75/night, including meals
Children (5 years and under): free
Dogs are welcome in certain rooms for a fee of $25/night. 
Dog-friendly rooms include: all glamping tents, the yurt, all cabins, and the Elk suite in the lodge (note: this is the only in-lodge room that is pet-friendly).
Please include the name and size of your dog(s) in your reservation so that we are prepared for your stay.
Dogs are welcome in the common sitting areas of the main lodge (excluding the dining area), and must remain on-leash in the Provincial Park at all times.
All existing bookings are eligible for a date change with no penalty or a full credit towards a future stay within 48 hours of your booking. With less than 48 hours notice, no credit or refund is provided. We recommend getting travel insurance to cover a cancellation within 48 hours of your stay.
A deposit equal to 50% of the total stay is required at the time of booking for bookings of 3 nights or more. A 100% deposit is required for bookings of 2 nights or less.
Visa, MasterCard, American Express, cash, cheque or gift card are accepted forms of payment. If paying with a cheque, please make it out to Castleavery Hospitality Ventures Inc.
Please note there will be a 2.4% surcharge for credit card payments.
Alcohol Consumption Policy
Outside alcohol consumption is not permitted in common areas as per AGLC regulations. Corkage fee: $34.95/bottle
Explore our accommodation options and rates. Take your pick from a variety of comfortable in-lodge rooms, alpine-style cabins, glamping tents and a rustic camping yurt.
Learn more about our gourmet meal offerings, including a sample menu and photos. We are always happy to accommodate food allergies and preferences with advance notice.
Take advantage of our unique back-country location, with access to stunning scenic trails for hiking, biking, snowshoeing, cross-country skiing & more.