Get enchanted by the sounds of melting snow and new growth during Spring; during the Summer, take to the lakes in a canoe and explore the Rockies from a new vantage point; in the Fall, witness the valley bed and surrounding forests burst into a blaze of inspiring oranges, yellows and reds; and bundle up in the winter for a long season of cross-country skiing, snowshoeing and, of course, a piping mug of hot cocoa at the end of the day.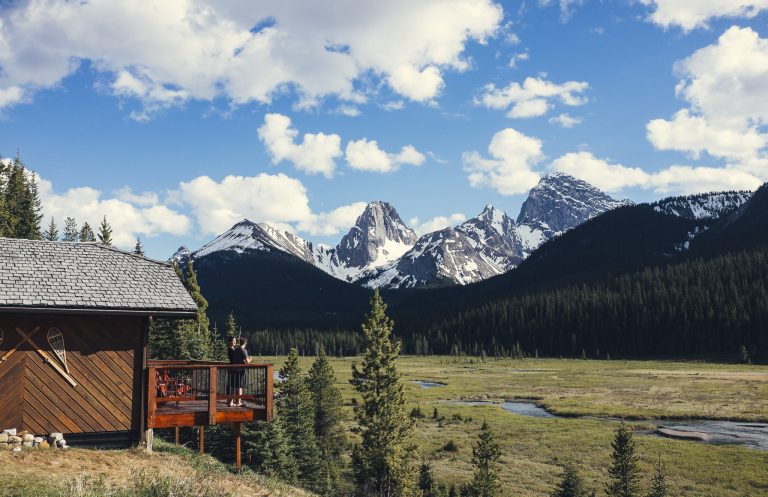 Summer at Mount Engadine Lodge
Summer at Mount Engadine Lodge (generally from June to early September) is a spectacular time of the year. During the day, warm temperatures invite you to spend the long hours soaking up all that our wilderness has to offer. Enjoy crystal-clear blue skies, refreshing mountain breezes and incredible sunsets that seem like an endless vacation. 
Summertime is a perennial favourite for Canadians as folks flock to make the most of the warm, long days. Take advantage of the weather to push further into the backcountry without having to worry about being caught in the dark — early-morning hikes can easily blend into evening strolls all the while new landscapes await around every corner. 
And it wouldn't be a Canadian summer without a refreshing dip in a glacier lake! There are plenty of water-based activities and sports to keep our visitors busy.
Whatever your perfect summer day looks like, remember to stay hydrated and keep your energy up! It's easy at Mount Engadine Lodge: let us take care of your all-inclusive stay and start your day with a hearty, two-course breakfast before grabbing one of our delicious sack lunches — perfect for a quick, midday break on the shore of a lake, or in the shadow of a cirque. And when you get back from a long day of adventure, you'll be ready for our mouthwatering, gourmet dinners and desserts served in an informal, family-style setting. Recounting stories and swapping objectives with fellow guests is a time-honoured tradition to get you excited for the next day!
For an incredible and unforgettable experience, ask us about the tours hosted by Alpine Helicopter, which allow our guests to see the beauty of Kananaskis from thousands of feet in the air. We would try to describe it, but the words couldn't even come close.
Hiking
Trail Running
Cycling
Kayaking
Fishing
Nature Watching
Bring slippers for extra comfort inside the lodge.
Hiking Boots
Light Jacket
Fishing Rod + Licence
The gravel road to Mount Engadine Lodge is a numbered highway which means your car-rental insurance is still valid.