Get enchanted by the sounds of melting snow and new growth during Spring; during the Summer, take to the lakes in a canoe and explore the Rockies from a new vantage point; in the Fall, witness the valley bed and surrounding forests burst into a blaze of inspiring oranges, yellows and reds; and bundle up in the winter for a long season of cross-country skiing, snowshoeing and, of course, a piping mug of hot cocoa at the end of the day.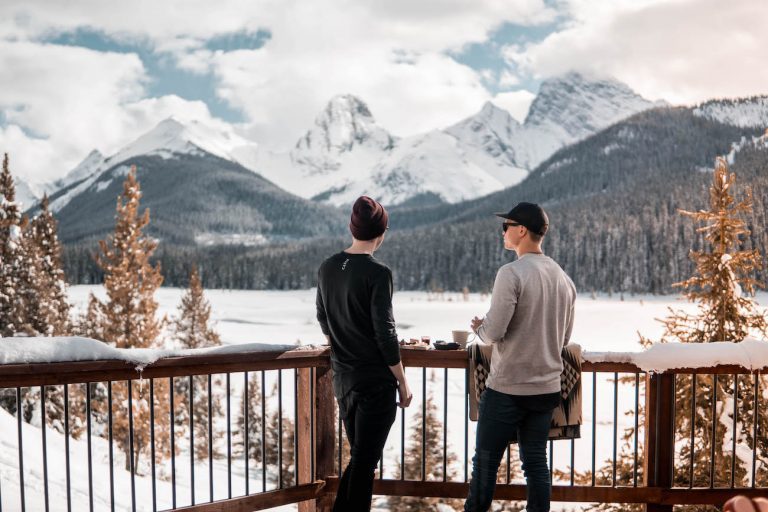 Winter at Mount Engadine Lodge
While visitors may hesitate to embrace our legendary Canadian winters, the reality is that, with proper preparations and precautions, the season offers some of the most unique and rewarding activities of the year. It's true that the temperature can dip between November and April — and that we get plenty of snow — but the east side of the Canadian Rockies is home to relatively mild and sunny winters, often due to a unique weather system, known as a Chinook, which brings warm, dry winds from the Pacific.
When the snow starts to fall, celebrate! Strap on a pair of snowshoes, a 6000-year-old innovation courtesy of Canada's First Nations peoples, which are free of charge for overnight guests. With a pair of these, you can traverse the mountain valleys and trails without worrying about getting stuck knee-deep in a snowbank. 
If speed is what you're after, you can swap those out for cross-country skis and effortlessly glide across the snowy meadows. Snowshoes, fat bikes and yak-tracks are also available to rent from the lodge. Cross-country skis can also be bought or rented in Canmore and Calgary — let us know if you need a recommendation on our favourite gear shops.
We can also set you up in true northern style with a heart-pounding, high-speed dog sledding course through the slopes and valleys near Canmore and Banff National Park. This amazing trip is sure to please all ages and is a perfect way to experience a more traditional mode of travel. When winter is at its peak, take your coffee to go and let Wapiti Sports and Outfitters guide you on an ice-fishing tour atop our frozen lakes and rivers.
For the ultimate Kananaskis experience, head up the road to the helipad with Alpine Helicopters for an indescribable, unobstructed view of the full majesty of the mountains and wilderness from thousands of feet above the ground.
Hiking
Snow Shoeing 
Fat Biking
Cross Country Skiing 
Yak Trax
Nature Watching
Bring slippers for extra comfort inside the lodge.
Water Proof Lined Hiking Boots
Heavy Jacket and Snowpants
Fishing Rod + Licence
Toque, Gloves, Scarves  
Pack layers
The gravel road to Mount Engadine Lodge is a numbered highway which means your car-rental insurance is still valid. It is plowed and sanded regularly during the winter months.