Christmas & Holiday Season at Mount Engadine
What better place for a Christmas and holiday getaway than Mount Engadine lodge and cabins. Located only 35 minutes from Canmore, our secluded mountain lodge is tucked away in beautiful Spray Valley in the heart of Kananaskis Country, Alberta.
Whether you're looking for an intimate holiday getaway, or a family Christmas will all your loved ones, our quiet atmosphere provides an ideal setting for an unforgettable holiday season. Choose from a variety of comfortable, rustic accommodation options, including lodge rooms, cabins, and our glamping tents – all with stunning views and gourmet meals included.
If you're interested in booking for large group, please contact us to find out about package pricing, and whether a full lodge book-out is required.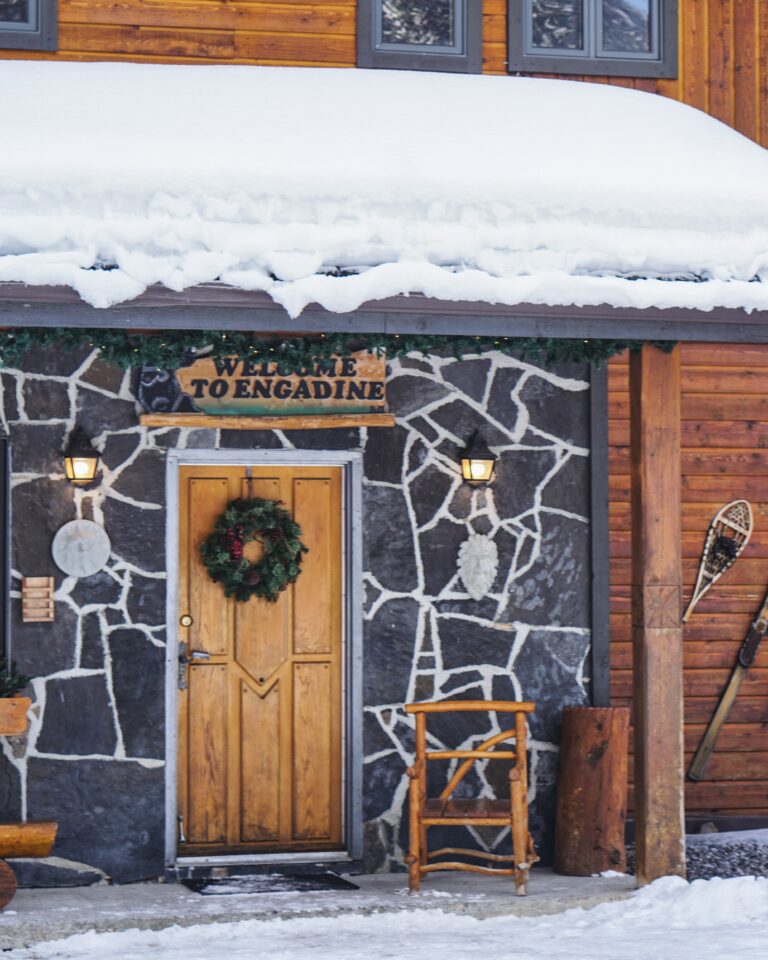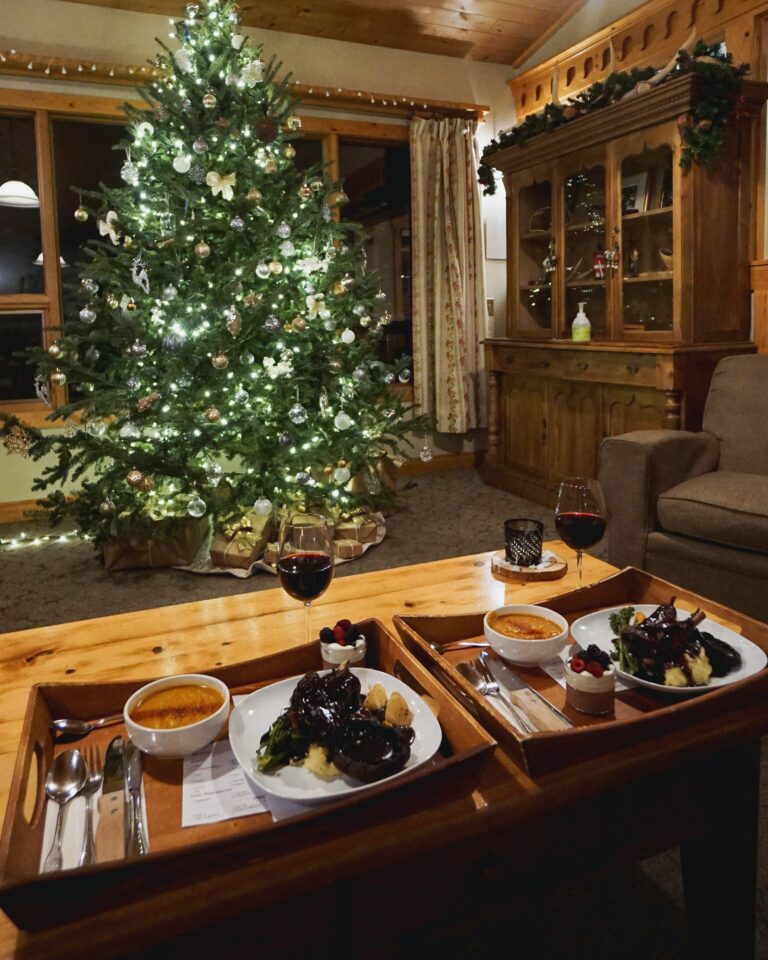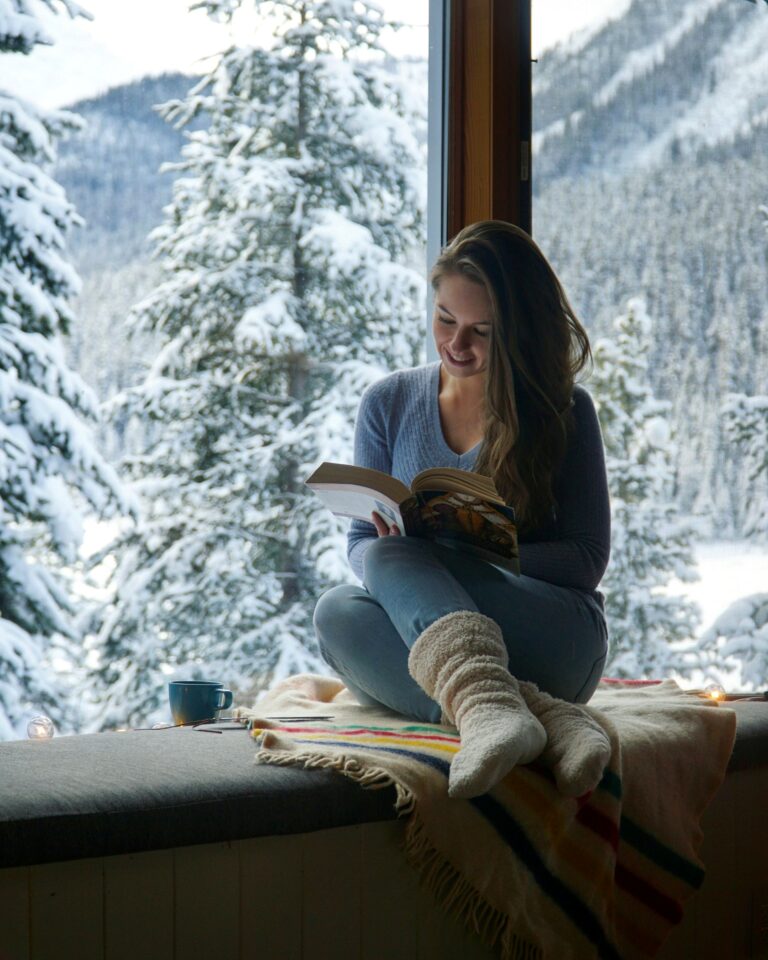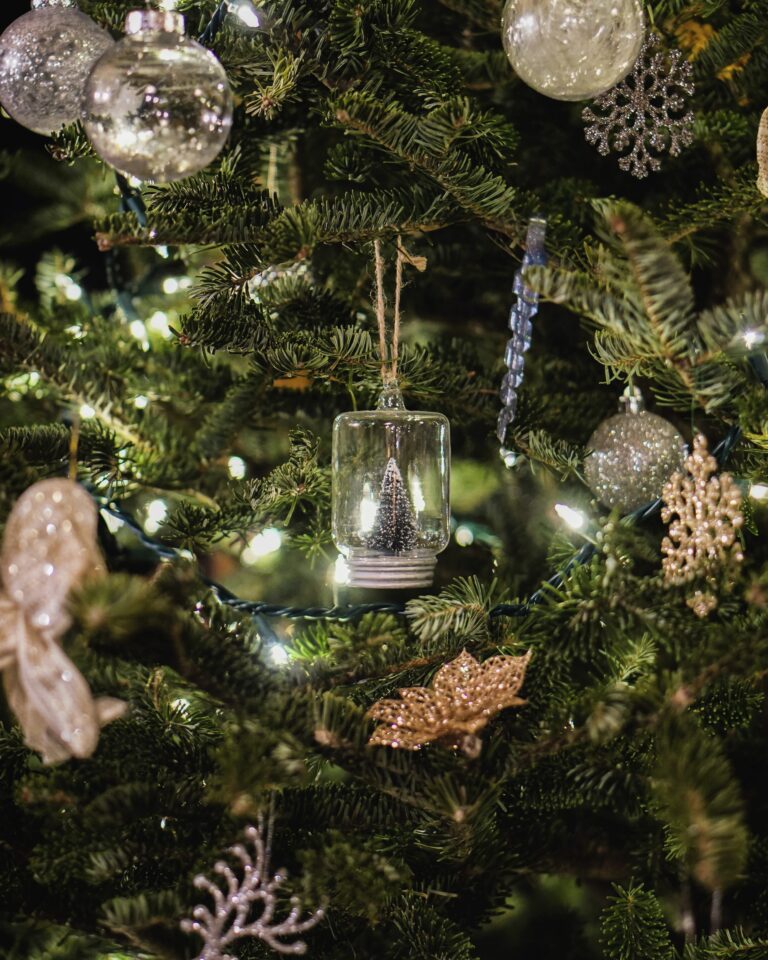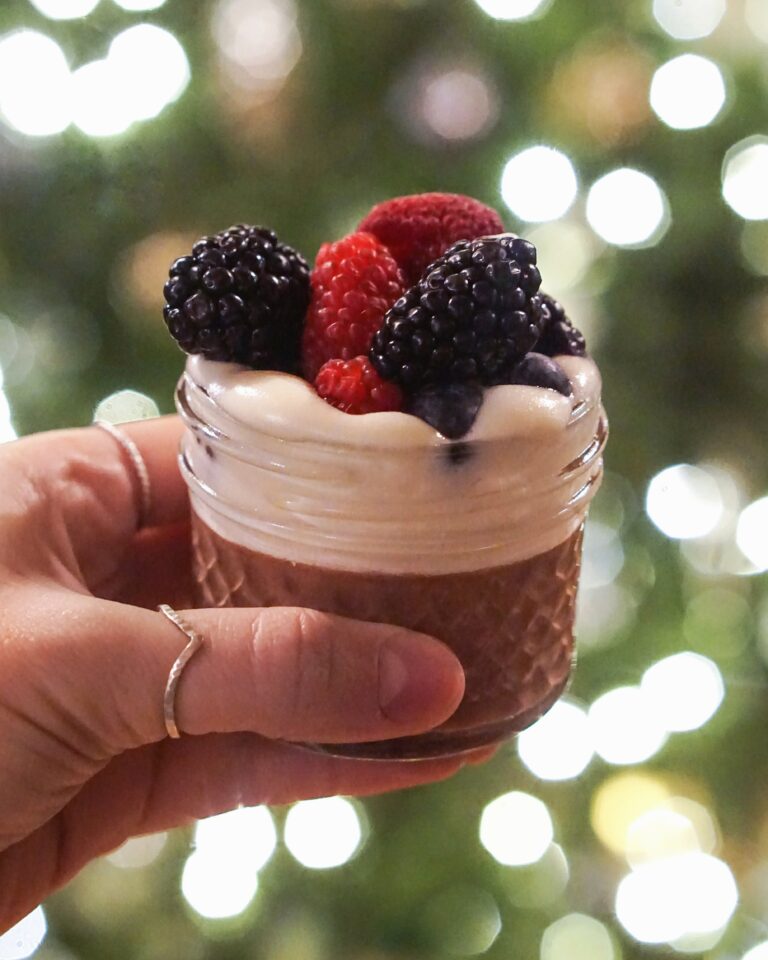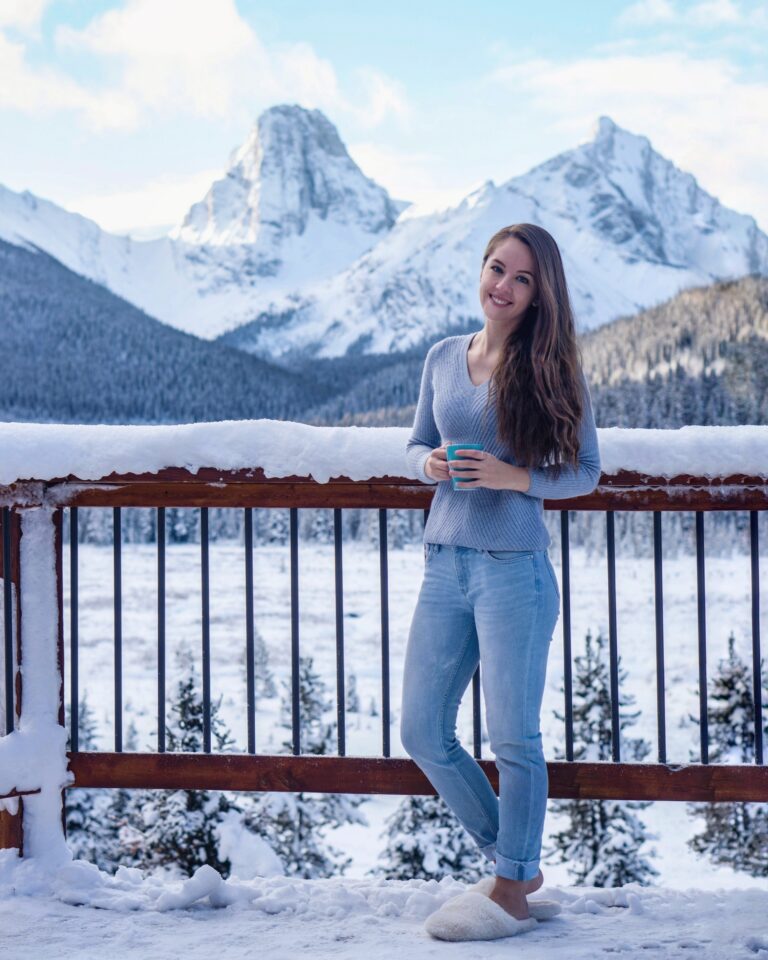 Escape into a peaceful, natural oasis where you can connect with loved ones while relaxing by the fire, go on a winter adventure, or just take time to have fun in the snow. With only 15 accommodations in total, and a maximum capacity of 38 guests, you can enjoy that at-home holiday feeling, while having our incredible staff handle the rest.
With trails in the valley behind the lodge, just gear up with our complimentary fat-tire bikes or snowshoe rentals, and you're all set.
And don't worry about having to leave your furry friends behind! We are a pet-friendly resort, so all members of the family are welcome. Learn more about our pet policies on the Our Lodge page.
Mount Engadine stays are all-inclusive, so forget about any cooking or cleaning, and make the most of your holiday.  Enjoy creative Canadian cuisine, with new menus created every day by our amazing culinary team. In addition, to breakfast, lunch, and dinner, guests also enjoy our popular afternoon tea service of charcuterie and daily strudel. 
Have special dietary requirements? No problem. We are happy to personalize our menu to accommodate any food allergies and preferences when given advance notice. We'll work with you to make sure your Christmas is absolutely unforgettable.
Please note that our rates are based on dual occupancy (i.e. the total cost for 2 guests) with all meals included.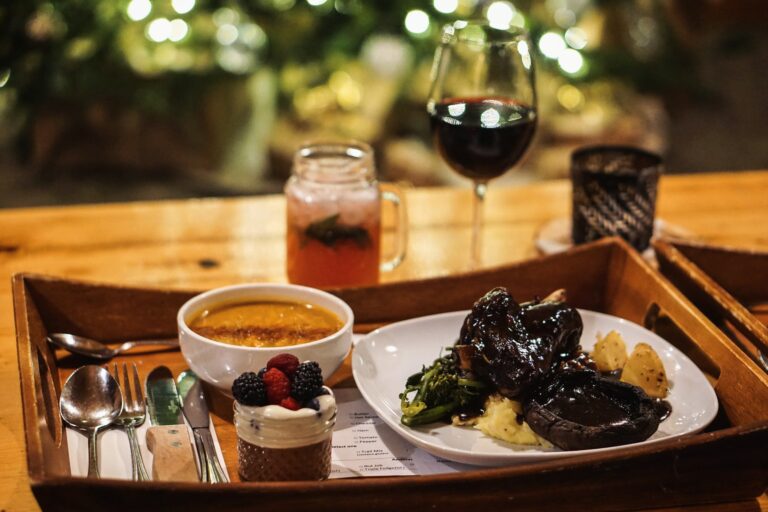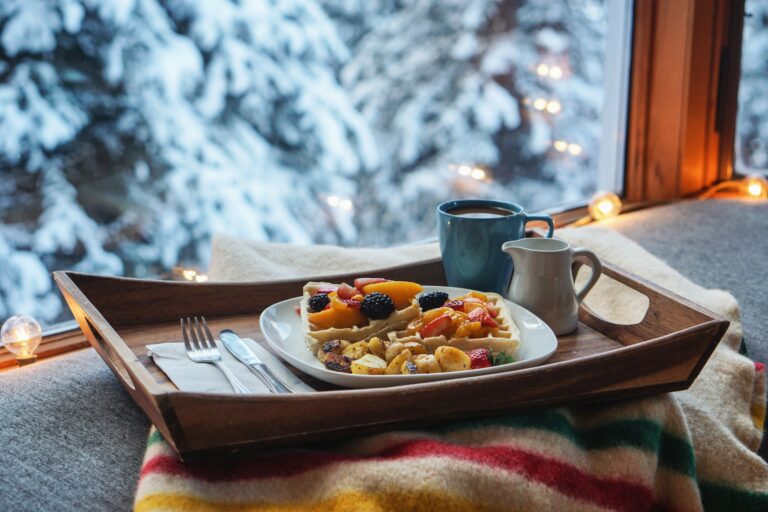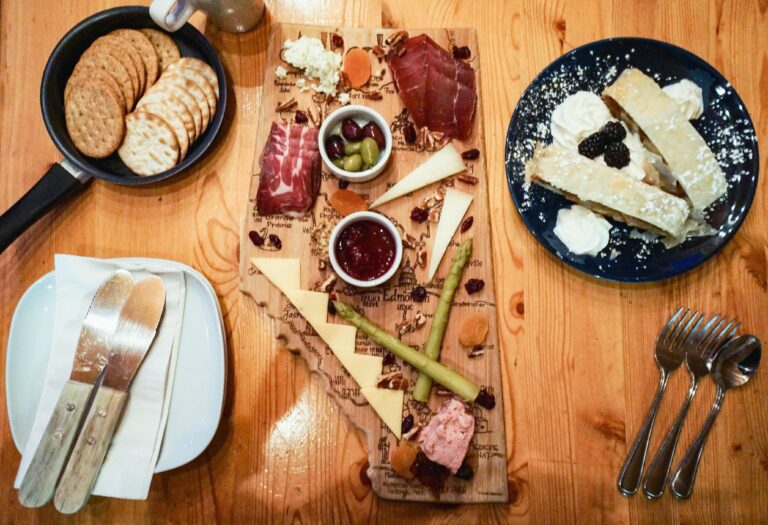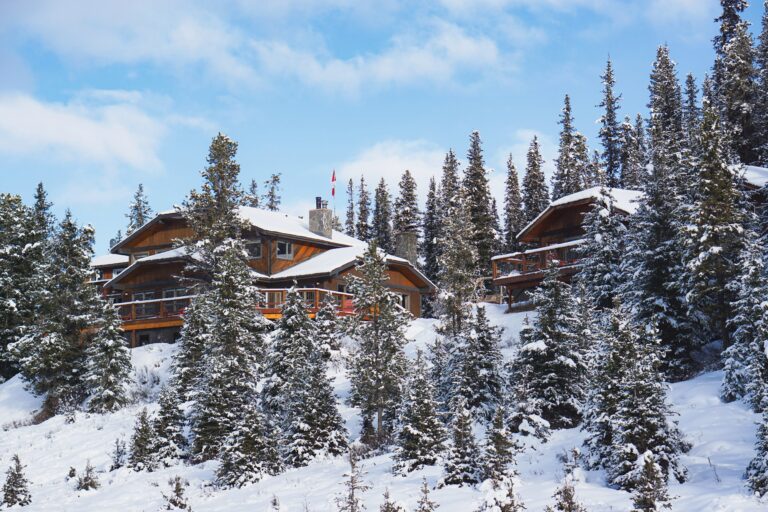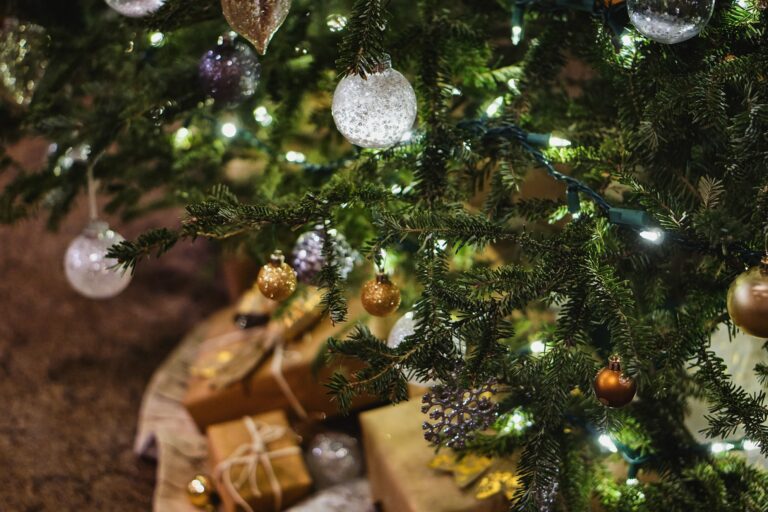 Clean and cozy accommodations, wonderful hospitality and we were kept well-fed with delicious gourmet meals. We took our 6 year old over Christmas break for a few nights and stayed in one of the glamping tents - do not be afraid of the cold, it is surprisingly toasty inside, with indoor plumbing as well! We had lots of fun snowshoeing and hiking in the area, as well as just hanging out at the lodge chatting with other guests. We can't wait to visit again!
What a getaway! The views are gorgeous, the food is amazing, and the service is outstanding. We have been here twice now and brought our friends this time. Everyone loved their visit and we can't wait to come back in a different season 🙂
Thank you Mount Engadine Lodge and staff for a great weekend getaway! We just stayed here for 2 nights with a group of friends and we were extremely impressed. Food and cocktails were so delicious! The lodge is very warm and cozy and the views are outstanding. Can't wait to go back again!
Shout out to Mount Engadine and their staff. My wife and I stayed there for one night in January, and everything was amazing. The food, service, location, and accommodations are 5 star and we both highly recommend this to anyone looking to get away from the hustle of city life. We stayed in a glamping tent, it was clean and as warm as we wanted. Special thanks to Patrick for making our stay even more special! Also, if you can, take advantage of the complimentary fat tire bikes, we cruised around and had a blast!
Went with my wife and three kids and we had the Moose suite. It was an excellent family vacation. The food obviously is a highlight, but being able to get out from the lodge and go snowshoeing was so nice. The games room was another highlight, and we spent a lot of time by the fire playing jenga and other games. Overall it was an incredible experience, can't wait to go back!
Service and food were outstanding. I would go here for these alone. We stayed in the cabins with our dog. They were very accommodating for our furry friend! The location was great for access to skiing and snowshoeing. We will be back for sure!
If you enjoy eating gourmet meals, sipping on tasty cocktails, and soaking in beautiful 360 degree views, this is the place for you. Each member of the staff works hard to make your stay memorable and personalized (especially for your furry friends!), and the surrounding activities are nothing short of spectacular. The glamping tents are so cozy, and you won't go hungry with how many amazing meals are provided with the stay. For sure recommend and will be back!! ❤️
This place is absolutely amazing! For the price it is a steal in the sense of what you are getting. Amazing, gourmet food, tons of activities including snowshoeing, fat bikes, cross country skiing and more! The staff is absolutely lovely and so friendly! Rooms are super clean, cozy and quaint with beautiful views. We definitely want to come back in the summer and experience it in a different season as they have even more activities then too! Highly highly recommend if you're looking for a true getaway with no cell service or tv! The encouragement of getting outdoors and spending true quality time makes the time here absolutely amazing!

Tripadvisor Travellers' Choice Award & Top Ten Hidden Gem 2023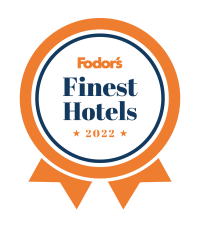 Top 5 Best Hotels in Canada 2022

Sustainable Tourism Award Winner

Award Winner & Guest Choice in Kananaskis 2022
Explore our accommodation options and rates. Take your pick from a variety of comfortable in-lodge rooms, alpine-style cabins, glamping tents and a rustic camping yurt.
Learn more about our gourmet meal offerings, including a sample menu and photos. We are always happy to accommodate food allergies and preferences with advance notice.
Take advantage of our unique back-country location, with access to stunning scenic trails for hiking, biking, snowshoeing, cross-country skiing & more.