The Great Scavenger Hunt of 2020
Get out and be active with friends and family for the most exciting scavenger hunt of the shoulder season. We have teamed up with our partners and local businesses to create 4 amazing prize packs that are available to be won. Register before October 16th for your chance to be apart of the fun.
The scavenger hunt will be held on October 17th. Registered participants can check in and pick up their first clue at Mount Engadine Lodge starting at 8am. There will be 3 hidden locations around the lodge and immediate area. The 3 routes will vary in difficulty based on number of kilometers and total elevation gain so all skill levels can join in on the fun. Knowing only the distance and elevation of your journey, you will select your desired route and begin the hunt. The 4th prize pack will awarded to the team who posts the best picture to their Instagram main feed using the event hashtag #EngadineScavengerHunt (winner to be chosen October 19th).
Starting location: Mount Engadine Lodge
Scavenger hunt location: Mount Engadine and Peter Lougheed in Kananaskis
Date: Saturday, October 17th
Time: 8:00AM – 7:00PM
Cost: $10/person, includes scavenger hunt and a bagged lunch
Please call between the hours of 9am and 5pm to reserve your spot.
Details
Event will require participants to be outside for the majority of the day, dress accordingly. Bring layers, lots of warm clothes.

Must have bear spray.

Must sign waiver. All participants are in charge of their own safety and wellbeing. Mount Engadine, Carmella Consulting and all participating businesses are not responsible for the safety and wellbeing of participants. All participants are acting on their own behalf and are responsible for their own safety during the scavenger hunt.

Participants may only win one prize pack.

Follow the @MountEngadine, @CarmellaConsulting and participating businesses accounts to be eligible to win. 

Participant may not check in after 11am due to risk of finishing in the dark. All participants must return by 7pm.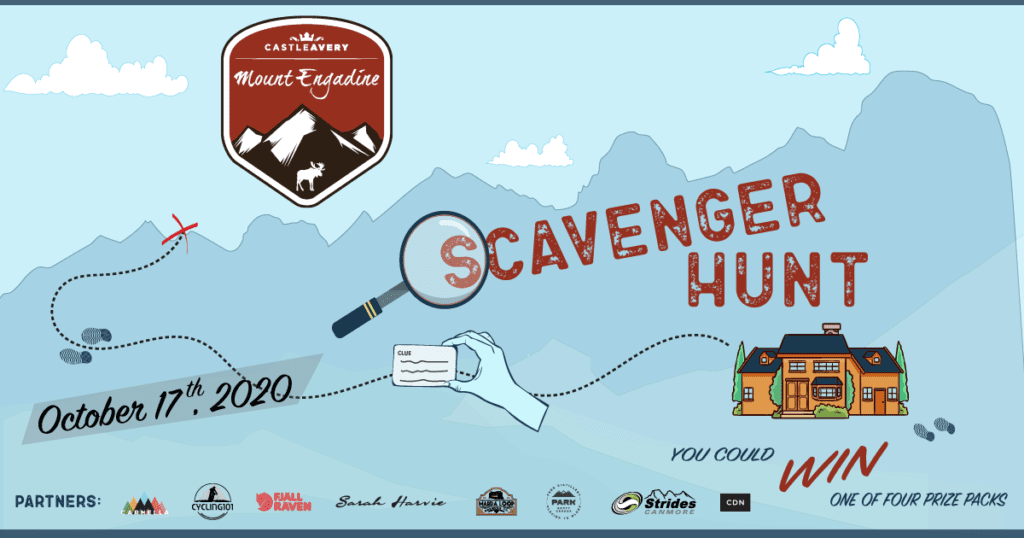 Prize Package 1
Kanken Gear Bags x2 from Fjallraven
Grizzly Paw Brewery Toques x2
Mt. Engadine Mug x2
Marda Loop Brewing Hat & Shirt
Grizzly Paw Soda (12)
$100 GC Cycling-101
$50 GC Strides Canmore
$25 Rocket Pie
Prize Package 2
Kanken packs x2 from Fjallraven
Byron Beanies x2 from Fjallraven
Afternoon Tea for 2 at Mt. Engadine
Grizzly Paw Beer (12)
$100 GC Cycling-101
$25 Rocket Pie
Men's and Women's outdoor gear packages from Mountain Exposure
Prize Package 3 (2nd place, Photo contest)
Kanken Card Wallet x2 from  Fjallraven
Dad Hat x2 from CDN
Grizzly Paw Brewery Toques x2
Afternoon Tea for 4 at Mt. Engadine
Park Distillery Vodka & Gin 750ml each
$100 GC Cycling-101
$50 GC Strides Canmore
$25 Rocket Pie
Prize Package 4 (Best photo contest)
1 night stay for 2 at Mt. Engadine
Dad Hat x2 from CDN
Park Distillery Beanie x2
Cranio Massage from Sarah Harvie
Marda Loop Brewing Beer
$50 GC Strides Canmore
$25 GC Rocket Pie
Frequently Asked Questions
What do I bring? We're sending you a packing list! We require that you have bear spray for your party. But stay tuned for a complete list. We'll make sure you're well prepared for the day.
How big can my search party be? Any size! The more the merrier. (There is only one prize pack per team)
What if I have dietary restrictions? On the registration form when signing up you would have had to put in your dietary requirements. If you did not do so please email mountengadine@castleavery.ca and we will adjust your request.
Do I need to have Instagram to participate? You don't need Instagram to participate. However, to claim your prize you need to be following @MountEngadine, @CarmellaConsulting and participating businesses accounts on a public Instagram account to be eligible to claim any of the prizes.
Can I make a story post for the social media prize? Story posts are great! However, as we will be giving 48 hours to post your photo, the photo has to be posted on your feed to make sure we see everyone's submission.