Mountain-View Weddings & Elopements
Make your wedding or elopement unforgettable, with a stunning panoramic backdrop of the Alberta Rocky Mountains.
If you're looking for a mountain wedding in a peaceful setting, outside of the busy tourist towns of Banff and Canmore, then Mount Engadine is the venue for you. Our unique secluded property is nestled between the spectacular mountains of Kananaskis, overlooking a serene meadow featuring a beautiful pristine creek and frequent wildlife.
We specialize in creating custom, all-inclusive packages for intimate weddings and elopements of up to 38 guests. Contact us to learn more.
All-Inclusive (2 Night Minimum)
Pet-Friendly Venue & Accommodation
Indoor & Outdoor Venue Options
Open Year-Round (Even in Winter)
Mountain, Meadow & Forest Views
LGBTQ+ Friendly (All Love Welcome)
38 Adults Max. Guest Capacity
Wedding & Elopement Packages
Weddings and Elopements at Mount Engadine require a two-night minimum stay (with the ceremony on the second day). Weddings also require a full property book-out.
This ensures your special day goes smoothly and stress-free, and also allows you and your guests to fully disconnect from your busy lives, and reconnect with each other, plus extra privacy with exclusive use of the property.
Our wedding and elopement packages are custom-made to cater to your every need. Once you contact us, we will work together to finalize the details and design the perfect package for you. 
Wedding & Elopement Venues
All of our venues offer stunning views of the mountains, forest and meadow, and can be set up in any arrangement to suit the needs of your ceremony and reception. We are happy to provide you with tables, chairs, linens, china, glassware, cutlery, and AV equipment including a projector and screen (or we will gladly work with your vendor). We also have plenty of on-site parking available for your guests.
Outdoor: Mountain-View Deck
Overlook the meadow from our large outdoor deck, with breathtaking mountain views as far as the eye can see, plus direct access to the lodge. (Wheelchair accessible.)
Outdoor: Creek-Side Meadow
Get even closer to nature with a creek-side meadow setting and enjoy the sounds of flowing water and surrounding wildlife. (Not wheelchair accessible.)
Enjoy the mountain and forest views from the comfort of our lodge, featuring a rustic wood-framed dining room surrounded by  windows. (Wheelchair accessible.)
Mount Engadine offers a variety of comfortable accommodation options, including 6 lodge rooms (including two options for bridal suites), 3 cabins, 5 glamping tents and 1 yurt, with capacity to sleep up to 38 adults.
All of our accommodation options (except the yurt) offer private ensuite bathrooms with hot showers, and all rooms outside the main lodge are pet-friendly.
When booking your wedding with us, we are also able to offer a group discount on the nightly rates.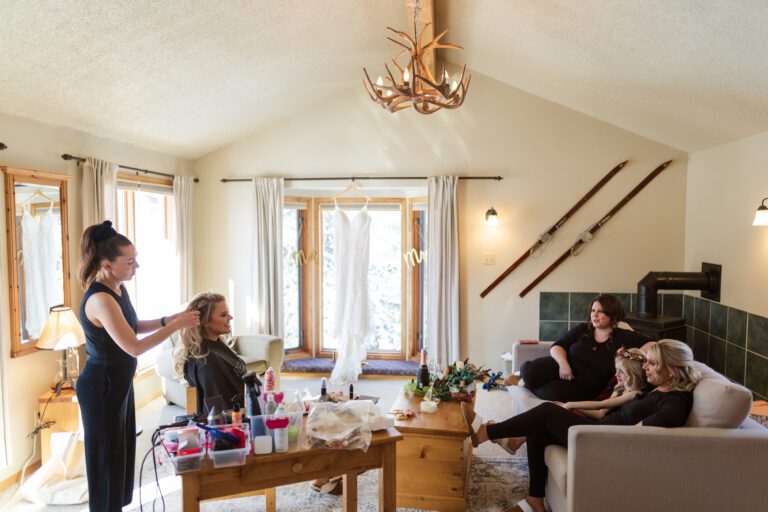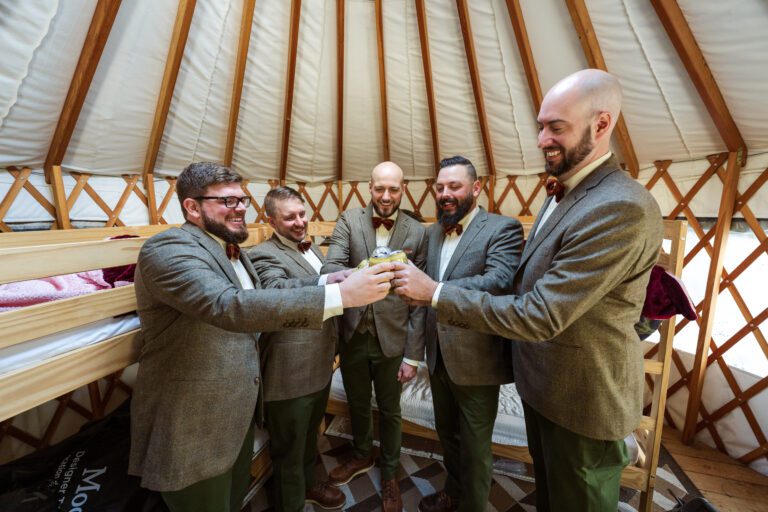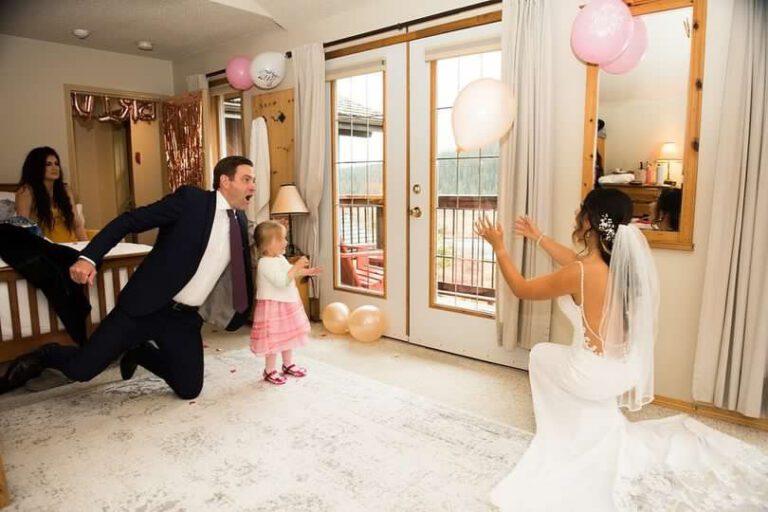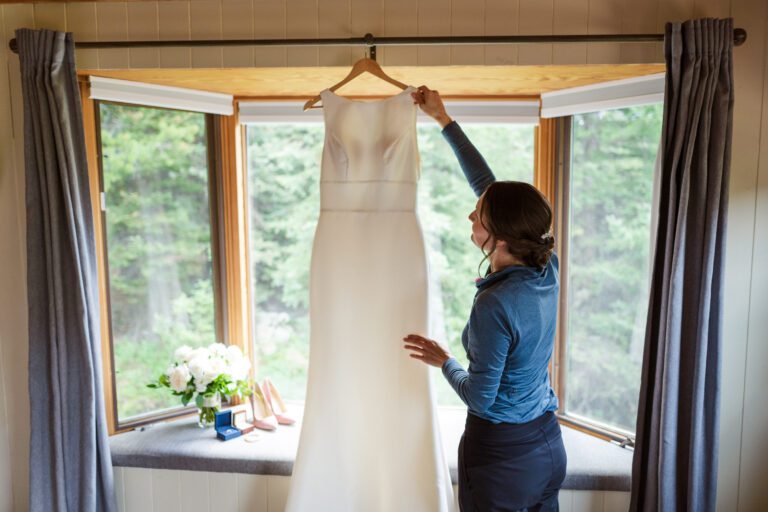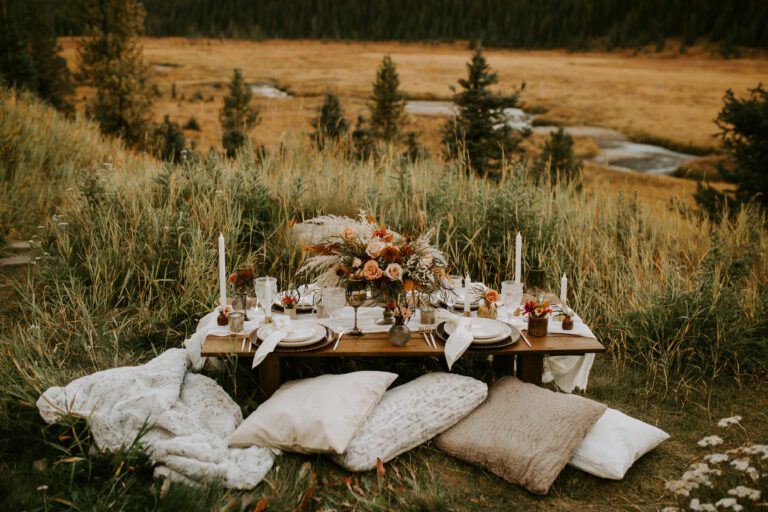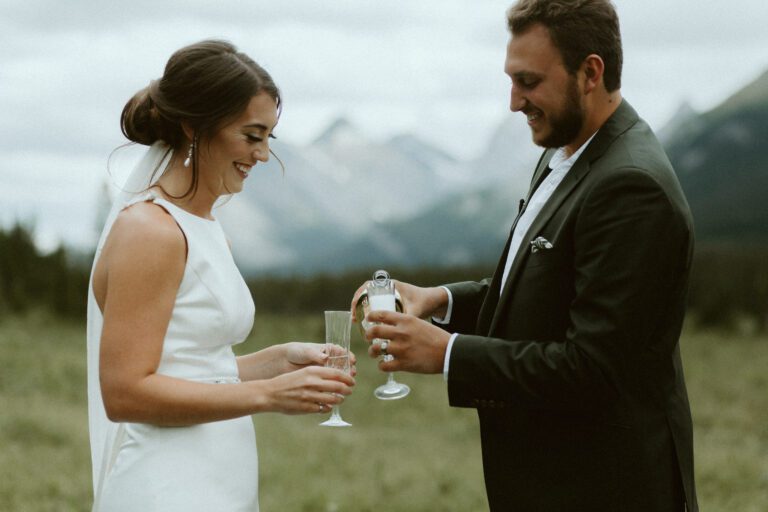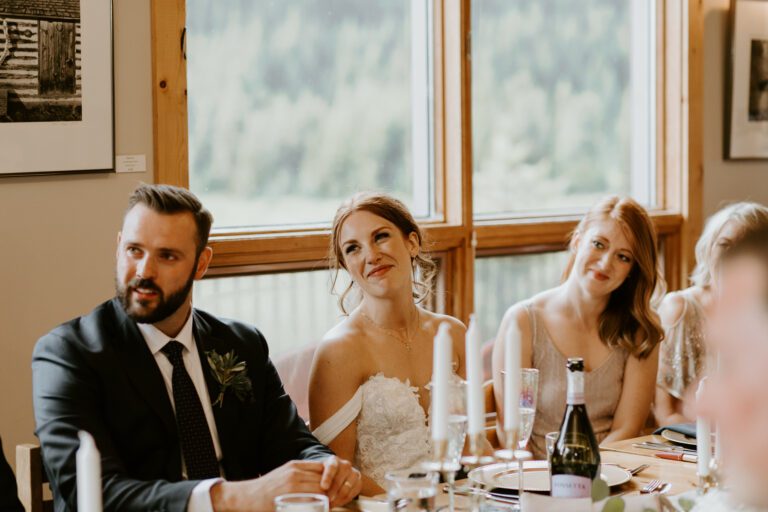 Our guests often tell us that, aside from the views, the quality of our food is the best thing about Mount Engadine! Our incredible chefs will work with you to create a custom menu featuring inspired Canadian cuisine made with locally sourced, seasonal ingredients.
All meals are included throughout your stay, including a full breakfast, a bagged lunch, afternoon tea with charcuterie, and a three-course plated dinner.
We also have a full bar on-site, offering a variety of local craft beers, Canadian and International wines, spirits, and cocktails. (If you wish to bring your own wine, our corkage fee is $34.95/bottle.)
Mount Engadine is a truly special place with no shortage of activities. Right from our doorstep you can find hiking trails for all levels, or take advantage of our complimentary snowshoe and fat-tire bike rentals in the winter.
After your adventure, relax and reconnect over a cup of tea in one of our cozy lounges, or bask in the sun and watch wildlife from our large outdoor patio. And what better way to end the day than stargazing and bonfires at our outdoor fire pit.
We are also able to help coordinate any other special activities such as guided hikes, helicopter rides, fishing, and more.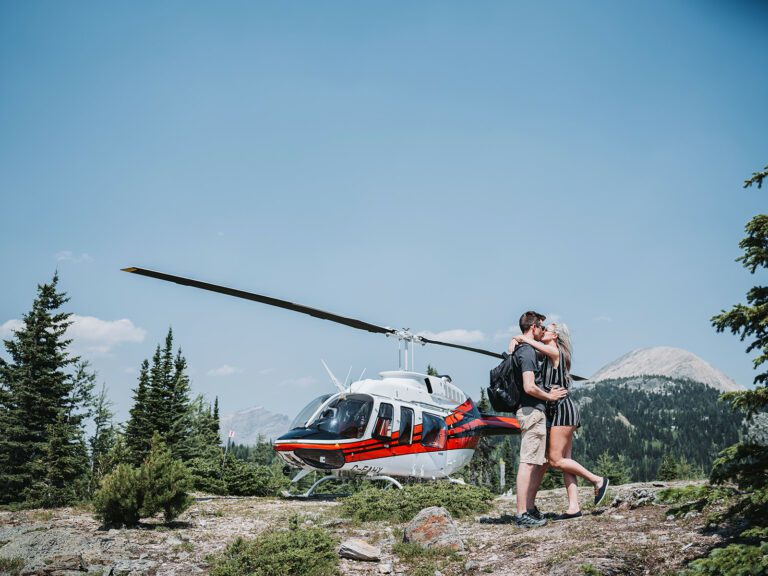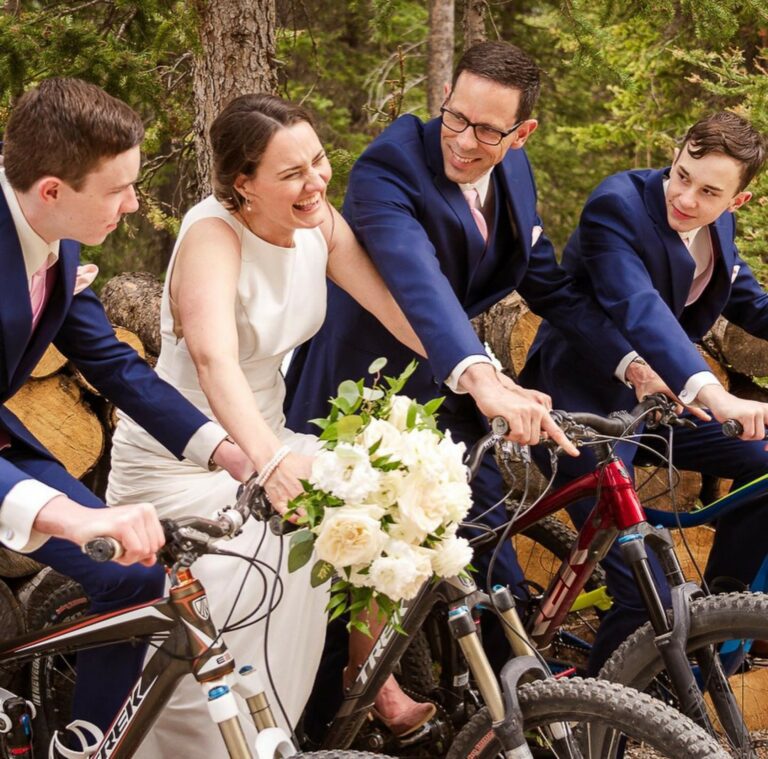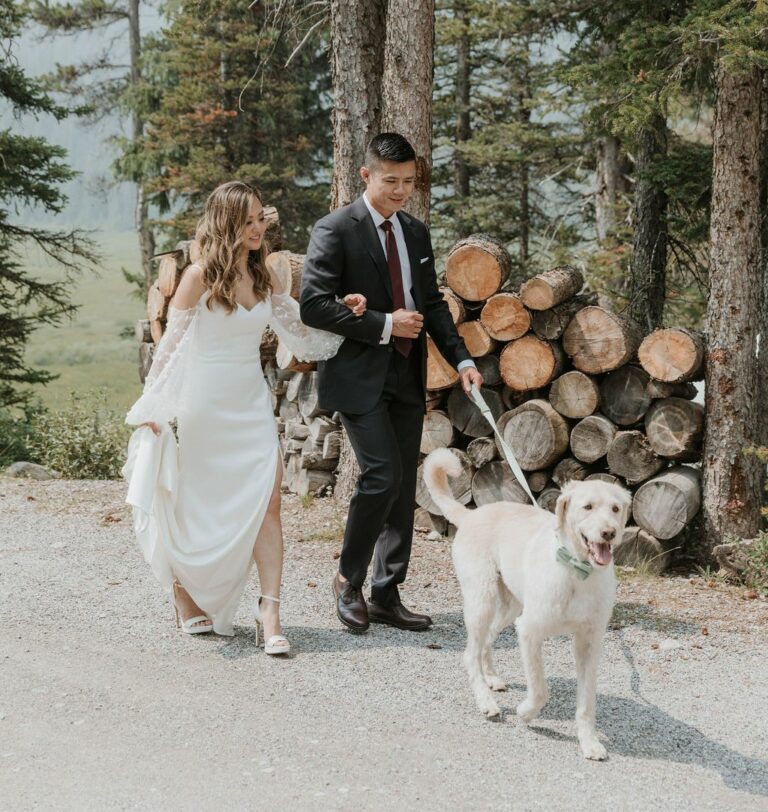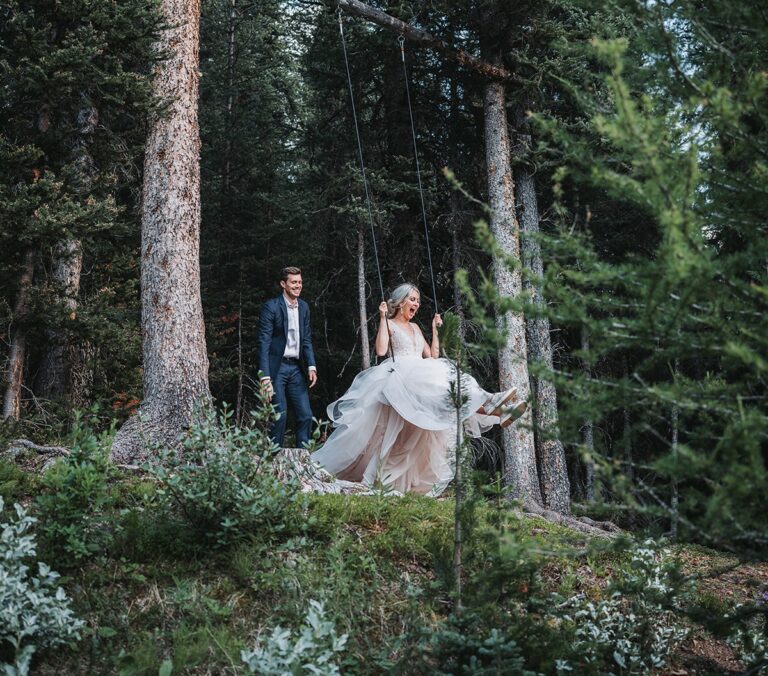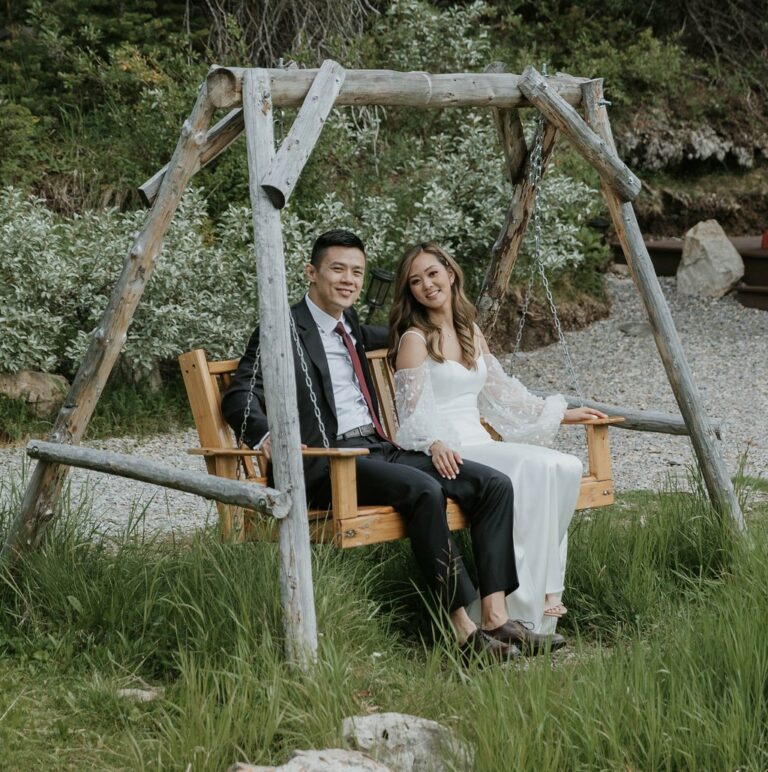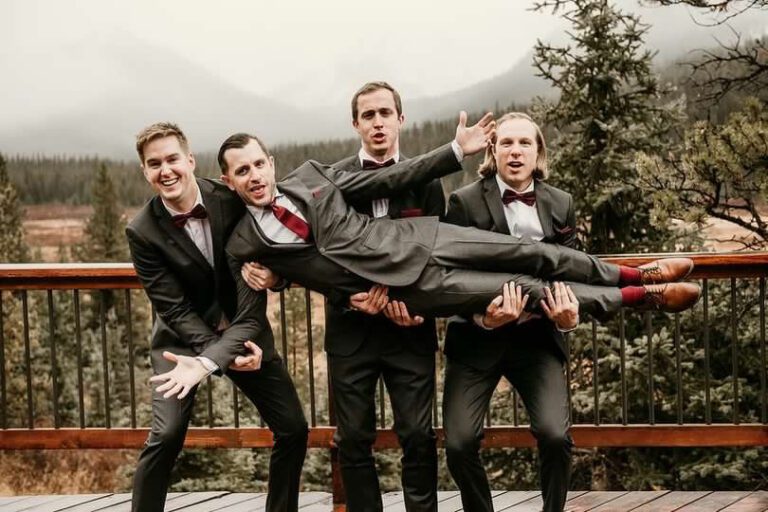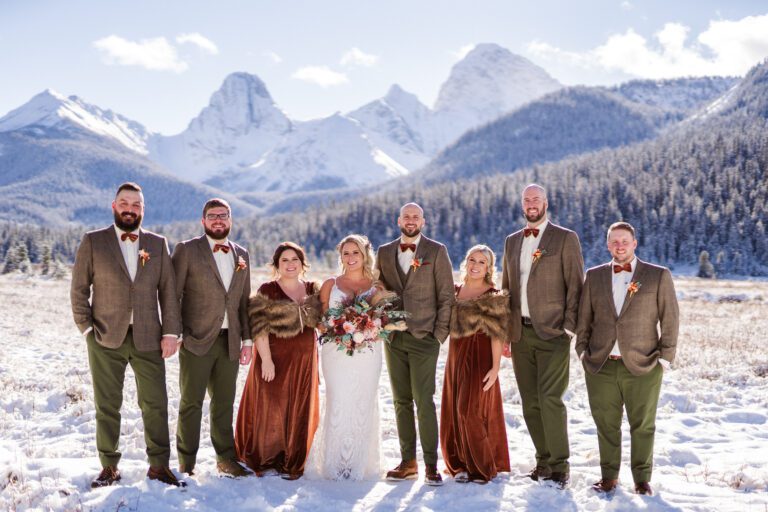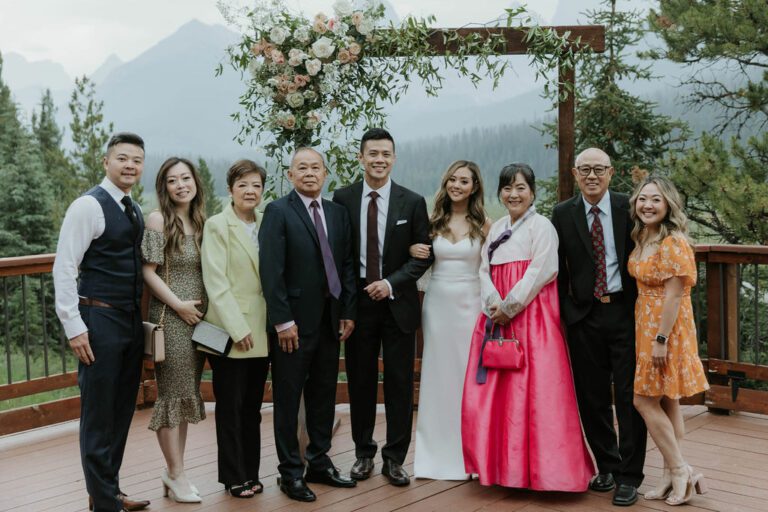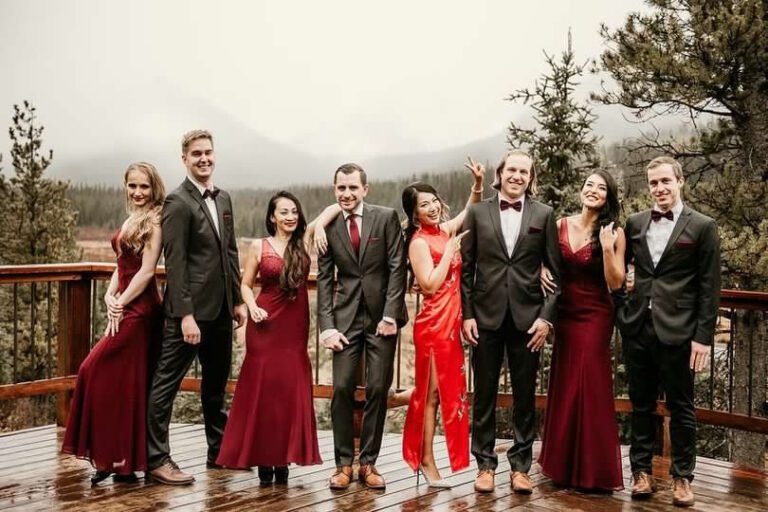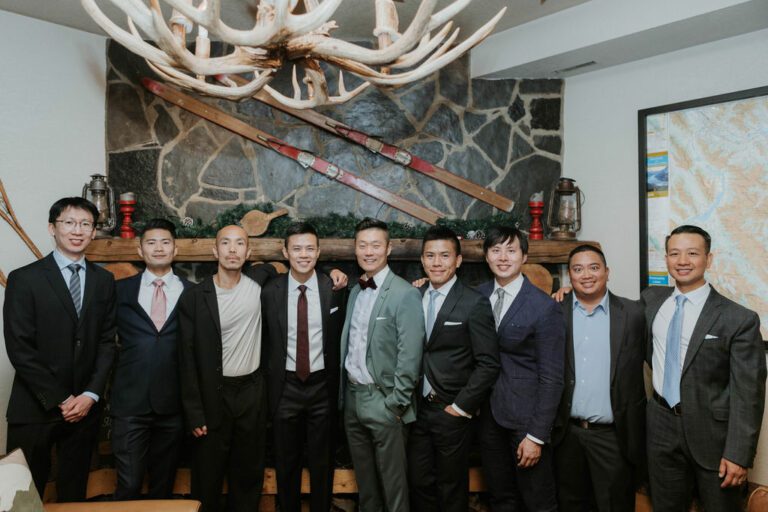 Whether you're planning a full wedding, or a small elopement, our experienced team of staff is ready to help you through the entire process — no detail is too small!
During the event, there will be a team of staff on hand at all times to serve you and your guests. Let us do the hard work, so you can enjoy your special day.
If you're ready to start planning your event, please get in touch.
What People Are Saying...
I got married at Mount Engadine in February 2022 and it was beyond perfect! The weather was amazing, -2 with clear blue skies. The staff were so accommodating when planning the wedding (with guests changing, diets, ect). The food was spectacular, and so much food, no one was hungry. The rooms were spacious, and fit all of our guests comfortably. We even had an evening dance in the mountains. It was the best day ever! Thank you everyone for making this day so memorable.
Mount Engadine Lodge hosted our intimate wedding (~30 people in total), and it was everything we dreamed of. After contacting options in Banff, we found Mount Engadine Lodge by accident, and it turned out to be everything we wanted. They were much more easygoing and casual than any other venues we contacted, which translated directly to the stay - it was so homey and comfortable. The location is amazing - remote in the best way possible, with unbelievable mountain views. The food was great (you will never be hungry again), the hiking trails in the area are wonderful, and the staff were super friendly and helpful. Our guests raved about the stay, and the ability to disconnect from their busy lives for a bit. We look forward to returning one day for an anniversary!
Mount Engadine was the perfect venue for our wedding. The staff we amazing, helpful and accomodating. All of our guests agreed that they had never been somewhere quite so spectacular. The food was excellent and plentiful. The activities (snow shoes, cross country skis, fat tire bikes) where a big hit. No bad words to say. Mount Engadine really is a 'hidden gem'.11/10
Just last weekend my family and I spent the entire weekend at Mount Engadine Lodge...Spray Valley, Kananaskies. We arrived on the Friday and stayed until Sunday. On the Saturday I was married to the man of my dreams in the most beautiful place I could ever imagine. The back drop of the rocky mountains was spectacular!! The lodge itself was incredible!! The rooms were spacious, clean and beautifully decorated! The staff were supberb! They were amazing to my family the entire weekend!! The food was one of the biggest highlights!! The chefs made the most delicious meals throughout the weekend!! My personal favourite was the Bison Short Ribs served with Lemon Risotto, Carmalized Brussels and Tasty Cauliflower!! Chef Conner shared how the ribs were slow cooked for over 6 hours!!! Fall off the bone delicious!! In planning the actual wedding, the manager and her staff were extremely helpful. They helped prepare all of the decorations and tended on our guests every minute of the day!! The wedding executed perfectly!! Many of my guests mentioned that it appeared to be the most relaxed wedding they had ever attended!! I would HIGHLY recommend Mount Engadine for a special dinner/ afternoon tea, relaxing weekend/ night away or small wedding!!
We had a tiny wedding ceremony with just our parents at the lodge. Each couple stayed in a different place. We had a cabin, the window faced the forest and the balcony had stunning views. It was a phenomenal place to wake up in and relax in. We found several gorgeous hikes in the area of different lengths. The staff were so kind, professional, and genuine, we felt real warmth and care from them. The food was out of this world, so tasty and filling. Late night bonfires under the moon was the perfect way to end each night.
My step-son held his wedding at Mount Engadine with 24 guests. We had the place to ourselves - close friends & family from all over. It is a gravel road for 35 or so to get in, but it was well worth it ! The staff were amazing - just a few staff do it ALL. When we arrived, each couple were treated to a charcuterie board and drink. We had set our dinners for Fri & Sat in advance - and meals were fabulous! I had fresh trout 1st night & elk tenderloin the 2nd night. Coffee was ready in the morning, plus yoga (bride & groom brought in from Canmore!), then a GREAT hike (bagged lunches ready for us) before getting ready for the wedding - informal and stunning! We partied with the moose in the meadow looking on. Our rooms were comfortable. ! It was an amazing weekend! Stunning location - totally private & surrounded by mountains & wildlife.
We were here for a weekend for a friends wedding and it was very nice. The rooms are very comfortable and super cozy. There is wildlife in the meadow in the mornings and evenings. The food is excellent and is included in your rate. The staff are super helpful friendly and very welcoming. Lots of access to amazing hiking trails from the lodge and they will pack you a bagged lunch for your adventures. The road can be a challenging drive, we found coming up from Longview the easier drive as the road seemed to be in better condition. A very nice place to get away from the city and relax.
My wife and I just had the privilege of staying at Mount Engadine Lodge this past weekend, we were a part of my cousins wedding which took place there. Our time there was outstanding! I really can't think of anything negative about our stay. First and foremost the staff there went above and beyond making sure we were well taken care of, they were completely selfless and met all our requests. Their attention to detail was phenomenal. Now let me get onto the food, the Chef you have on staff there is a gem! Gerard did not disappoint us with any of the meals, definitely some of the best food we have ever eaten. I had two helpings of the salmon on Saturday night which astonished my wife because I am not typically a big fan of fish. The bag lunches are a brilliant idea as we were allowed to customize them individually with what we wanted in them and we could eat them when it was convenient for us, we even got one for Sunday for the drive home. Yet another detail that was not overlooked, he cooked specific kid friendly meals both Friday and Saturday night, as he knew the braised bison short ribs and salmon may not go over as well with the children. This was by far one of the best places my wife and I have ever stayed at, we really hope to return one day and we will be recommending it to all of our friends, the cleanliness was top notch, the service as I mentioned was unbelievable, the experience on a whole was just amazing!
Mt. Engadine Lodge hosted my daughter and son-in-laws wedding the weekend of June 23 to 25, 2023. We reserved all the accommodations at the lodge for all the guests which was approximately 30 people so it was a private event. Bottom Line is it was truly one of the most happiest and memorable days of my life. I could not ask for a better venue. I highly recommend Mt. Engadine Lodge for any special events like weddings because you won't be disappointed. The staff couldn't do enough for the guests and every meal was simply mouth watering made fresh by their gourmet chef. My wife and I stayed in Whiskey Jack cabin, the room was warm and inviting with a spectacular view of the water and mountains. My wife loved sitting on the deck and listening to the birds and other wildlife. I now understand completely why my daughter and son-in-law dreamed of having their wedding at Mt. Engadine Lodge and why they keep returning to enjoy the hospitality year after year.
I've waited a week to write this review because no words can actually describe this place. This was my third time coming to the lodge, and an extra special time since we got married here with our closest friends and family. First off, the lodge is the coziest place ever, and the views are spectacular. The staff are absolutely amazing and are the most genuine and accommodating people ever. The chef and their team make the most amazing food ever, and are super accommodating for people with dietary restrictions & allergies (ie. vegans, veggies, GF, etc) - true MVPs. If you're planning to have your wedding here, or are thinking of it, just do it. Besides it being like a fun family reunion, my famjam said it was one of the most laid back and relaxing weddings they've been too (they also couldn't stop commenting on how comfy the beds are). The staff were very easy to communicate with leading up to the wedding, and really went above and beyond throughout our weekend. All of the people said they'd come back here in a heartbeat, and some are already planning their next trip there.
I can't say or will ever be able to fully articulate what a wonderful experience we had there. From beginning to end ,it was a joint effort by every member of the staff that made this the best experience of our lives. I can't thank the staff enough for all they did for us. And I also have to thank our son and daughter-in-law for choosing this place for their wedding.
We had our wedding weekend at the lodge with 32 of our closest friends and family. The food was incredible, the staff were so friendly and our wedding day was spectacular because of all of it combined.

Tripadvisor Travellers' Choice Award & Top Ten Hidden Gem 2023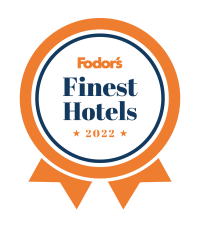 Top 5 Best Hotels in Canada 2022

Sustainable Tourism Award Winner

Award Winner & Guest Choice in Kananaskis 2022
Get inspired with Rocky Mountain Bride, and take a look at some of the glamorous couples who have allowed us to take part in their special day.
Chantal & Scott's Elopement
By Crista Lee Photography
By Aysela Keman Photography
Michelle & Jon's Intimate Fall Wedding
Brittany & Mat's Elopement